Zoo InternQuest is a seven-week career exploration program for San Diego County high school juniors and seniors. Students have the unique opportunity to meet professionals working for the San Diego Zoo, Safari Park, and Institute for Conservation Research, learn about their jobs, and then blog about their experience online. Follow their adventures here!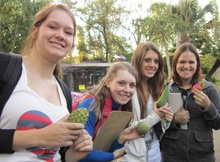 When you go to the Zoo, the first attraction you head toward may not be the landscape. You may head straight through Elephant Odyssey to check out the lions or massive Asian elephants. But if you go straight to the animals, you could miss some of the elaborate ficus plants, olive trees, or sunflowers that spot the trails. Though the animals are the main attraction at the Zoo, the plants are pretty important, too.
Michael Letzring is the plant collections manager at the Zoo, and last week he spent a few hours with InternQuest, teaching us about the Zoo's landscape and why it's so amazing. Mr. Letzring has a degree in landscape and horticulture from Mesa College and 31 years of experience working in his field. He started his own landscape company, has worked in a nursery, and has been at the Zoo for 15 years. Although he loves animals, he is even more passionate about plants and where they come from. Mr. Letzring has been very invested in the Zoo's conservation efforts over the past decade and a half.
As we wound through Elephant Odyssey, Mr. Letzring pointed out the diversity of the trees, flowers, bushes, and cacti that line the pathways. He talked about everything from the African thorny acacia to the stout bottle tree and why these specific trees were planted by certain enclosures (i.e., African thorny acacia would typically be by the giraffes or elephants since it would occur in their natural habitats). Yet the most impressive part of the tour, one might argue, was Mr. Letzring's incredible memory. He knew each plant's name, almost all of their Latin names, and lots of facts about them.
As our group walked along, passing the animals' enclosures and instead focusing on the unique flora, Mr. Letzring described some of the most rewarding aspects of his job. He focused the first part of his answer on conservation. As the plant collections manager at the San Diego Zoo, he really enjoys being able to show visitors all of the different kinds of plants that grow in the world, especially the endangered ones. In fact, Mr. Letzring was excited to show us the Zoo's Madagascar Forest, where some very unique trees, specific to the island nation, grow. He explained that most of the plants in Madagascar, including the triangle palm that can be seen at the Zoo, are endangered due to deforestation for local farmland. Not only does Mr. Letzring get involved with conservation here at the Zoo, he also supports the Zoo's conservation mission in other places. Every year or so, Mr. Letzring travels to Molokai to remove exotic weeds and plant native flora, helping to preserve some of Hawaii's unique, endangered plants.
At the Zoo, Mr. Letzring maintains a very busy schedule. His typical day of work includes briefing the Horticulture Department and then attending to each plant-related project that the Zoo is working on. For example, Mr. Letzring is responsible for heading the relocation of plants during construction of new exhibits. This includes moving plants from enclosures to other parts of the Zoo—a massive project, especially when it includes large trees. He also determines how and where to use plant donations, which can be quite large and extensive. On top of that, he oversees the Zoo's quarantine station, which isolates exotic plants before they enter the country or the Zoo. Mr. Letzring is currently busy with the Zoo's koala project, which requires the relocation of many different plant species. In all, Mr. Letzring's multi-faceted job does not have a typical day of work.
Mr. Letzring explained to us what challenges him most in his career. Instead of answering, "relocating the trees with 12-foot circumferences," he said that his biggest challenge is being successful in planting exotic plants that wouldn't normally grow in our climate. He strives to prove that nonnative species can thrive here so that he can present their uniqueness to guests. Hopefully, that will inspire people to preserve these plants and learn how to take care of them.
As our tour came to a close and we neared the end of Elephant Odyssey's wild, plant-lined path, Mr. Letzring gave us some advice for anyone interested in horticulture: first, go to school and get a degree in horticulture or landscaping; then, work at a nursery. And with that, he gave us each exotic fruit from plants around the Zoo, which included obtuse bananas, dragonfruit, and custard apple fruit. The refreshing, juicy fruit was nice after a long trek, and quite a new experience since the custard apple had light green spikes everywhere (which you can see in the above picture). It was very cool to learn about the landscape at the Zoo, and next time I come here I will definitely reconsider the importance of the windy, spiny cacti growing on the side of the path!
Caroline, Careers Team
Week Two, Winter Session 2012