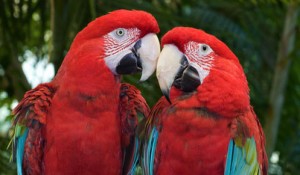 Commercialism aside, Valentine's Day is about celebrating love. We like it because it reminds us that love is in the air at the San Diego Zoo and San Diego Zoo Safari Park (Wild Animal Park), not just with our animals, but with our guests, too. And not just on Valentine's Day—love is in the air all year round. The Zoo and Park are places where people come to enjoy the wonders of the natural world with the people dear to them, the people they love and cherish. We think that's a beautiful thing, and in honor of that spirit we asked our Facebook fans to share their stories of love at the Zoo and Park with us. Below are the stories they shared. We hope you enjoy them as much as we did. Happy Valentine's Day, friends. Much love!

Ellen Brown Got the first kiss from my favorite boyfriend in front to the koalas. He knew I loved the zoo–and that I love the koalas most. He said 'you never get a second chance to have a first kiss.' In all the years since, I have never been back to the koala enclosure that I don't think of that day 18 years ago.
Cathy Souza Culbertson My husband proposed to me, on my birthday, after a fantastic surprise picnic lunch on the lawn overlooking "East Africa" at the Park. I was thinking what a wonderful birthday I was having, when he went on one knee and started with a beautiful speech about how grateful he was to have me in his life when the ring box came out of his pocket, I was as excited as one of those proposal commercials they are playing on TV! We have been married for 7 years and have had many more wonderful memories of the Zoo and Wild Animal Park since.
Sheila Kirby Cavanaugh My husband & I had our first date at the SD Zoo on August 25, 2004 (which also was my birthday)… It was a beautiful summer evening. We walked around, had dinner & got to know each other. We also shared our first kiss there too!! Best date ever… Exactly 2 years later he proposed to me and we are happily married with 2 beautiful little girls. I love the zoo!!
Amy Fullerton After 6 years of dating, my husband took me for a picnic in Balboa Park. He's Irish so much earlier in our relationship I received a Claddaugh ring, which I wore faithfully. At some point during our lunch he said you know I love that ring but I have one I think you might like even more and he proposed under one of the fabulous old trees. After I said yes… 🙂 we walked around for hours and just let it all sink in. The zoo has always been my favorite place… now it's just extra special! ♥
Jessica Foster My husband and I met at the San Diego Wild Animal Park. We met for the very first time in front of the crowned cranes at the entrance to the park. Exactly a year later, he proposed to me at the very spot. 😀
Mara Peters McLeod My husband and I used to go on play dates at the zoo together when we were two with our Grandmas (1981). They were friends and used to take us there. Who knew 21 years later we would start dating, get married and have 2 girls. We now go to the zoo as a family together all the time. Awesome!
Ana Hartman When I was 16, I went to the zoo with my then boyfriend for one of our first "real" dates. My good friend had given us free passes. It was an awesome day where we saw all of our favorite animals. He bought me a red panda t-shirt with Bai Yun, it was the first gift he ever bought me. Fast forward to 11 1/2 years later and that boyfriend is now my husband and I still have that panda shirt. Our first son wore the shirt until he grew out of it and I can't wait until our second son fits into it! Our whole family loves the zoo and we've been members since 2001.
Stacey Atkins My fiancé and I met online, but decided to meet face to face in Balboa Park. After wandering through the park for a while, he asked me if I would like to go to the zoo. So, off to the zoo we went, and then he took me to lunch at Albert's. Obviously we had a wonderful time there, as many of our weekends have been spent wandering through the zoo, and as members, special zoo events have often served as date nights. The zoo will always hold special memories for us as the place where we began our relationship, and every trip to come will remind us of how our love blossomed there.
Steven Cerda My girlfriend and I had our first date at the zoo almost four years ago..=]. We still call it Tiiiiiiiiiiiger River..♥. I love you Carolyn..♥.
Joshua P. Romero My now boyfriend and I shared a wonderful night together at Jungle Bells, courtesy of my Diamond Membership. We'd become the best of friends over the previous year and a half and I'd never really considered us being more than fiends. But something magical happened that night at Jungle Bells where I began to see him as someone more dear and special to me than just a friend. The San Diego Zoo will always be a special place for me because of the role it played in the start of our relationship.
Jennifer Anne McCroskey Weyenberg My husband is my 2nd. So we started dating in May, and over the early summer decided it would be fun to go somewhere for a weekend…a test to see if we could stand each other that long. Ok, not really, but that was what we joked. We soooo enjoyed the zoo, it was the best day in SD for us. We wandered, saw the shows, looked at the amazing animals, and fell even deeper in love with each other. A year later we went back with my kids and had another amazing time!!!
Brittany Knutson My fiance proposed to me at the San Diego Zoo in May 2010! I made it quite difficult for him, but he finally did it in front of the serval on the lion statue there 🙂 We are getting married June 4th at the Denver Zoo and are then going back to San Diego for our honeymoon!
Susanne Ruthsatz My husband contacted SDZ for his marriage proposal to me. He wanted to put a sign saying: "Susanne will you marry me" in the terrarium of the Burmese python, as she was the animal I wanted to see. Ever since I read the book "Sandeagozu" by Jannan V Jenner, visiting the zoo was my dream and he knew that. The people at SDZ were totally helpful and would have done it for him/us. Unfortunately our trip to USA went from LA to Vegas and then to San Diego, so we got married just before we went to SDZ, so he couldn't do the proposal like he planned, but it's the thought that counts! It was the best honeymoon ever!!!!! I will cherish my memory of SDZ forever, hoping someday I have enough money to return.
Laura Rosenthal Benz Had my first date with my hubby there, now we bring our daughter.
Ashli Krasznavolgyi My husband and I went to San Diego on our honeymoon (we lived in New Jersey at the time). We spent so much time at the zoo, the weather was amazing and we had so much fun and at the other parts of Balboa Park. We visited the Japanese Tea Garden and the Cottages and just have great memories. For our one year anniversary I took all of our paper memorabilia and put it in a shadow box to celebrate our one year "paper" anniversary. 🙂 We have been married 5 years now.
Ruka Micheletti My boyfriend and I had our first date at the San Diego Zoo during the Hunte show. We also had our first kiss at the Safari Park by the cheetahs. The zoo will always have a special place in our lives.
Nora Harris Watson I didn't get engaged at the zoo, but, I did get my ring at the zoo. I have a cute series of pix of me pretending to be ignoring the animals and looking at my ring instead. 🙂
Rachel Carpenter My husband proposed to me at the zoo while we were on the Skyfari. He even managed to get down on one knee in the little car. The car number was 42, and every time we visit the zoo we look for it!
Timothy A. Schenck Got engaged at the SD Zoo Safari Park in '03. Every couple weeks we were visiting the Park that summer but as soon as I was ready to propose, she was always too busy to make '1 more visit.' So, I had to create a scheme with my sister-in-law to get her to go and even when we did go it was like pulling teeth to get her to visit her favorite spot up near the babbling creek in the conifer forest.
Sandy Jarrett At age 49 my husband and I married, a second marriage for both. Four months later, we helped caravan AWANA kids from our church to the zoo. Fifteen minutes later a kid had been lost then found resulting in a strong talk from the leader. Keep an eye on each other! So my husband and I put our faces together, someone took our picture and we sent that to his 90-year-old mother. She loved us keeping an eye on each other. We love the zoo!
Mandy Dahl I had never seen the ocean and always dreamed of going to the San Diego Zoo. Before my fiancé deployed to Afghanistan in 2009, he surprised me by telling me to pack my suitcase. We arrived at the airport and that's where he revealed that he was going to take me to San Diego to see the zoo and ocean. The man of my dreams made my dreams come true! We had the best time that weekend, and I will never forget it!
Rebecca Sefl My husband and I got married at the Wild Animal Park…it was beautiful.
Michelle O'Neill I had my first date with my husband at the Wild Animal Park 10 years ago. We were stuck on the tram ride for almost an hour in the dark. 😉
Deborah Carp-Mandelblatt I did get engaged at the zoo. I was so surprised and my husband (now) adopted a pair of meerkats (my favorite animal) and I got to spend some time with kala and hari!!!! All this happened before the park opened.
Shaun Ivory My very first date with my wife of 22 years was at the San Diego Zoo, in March 1988. She didn't think it was a real date at the time, but I guess I ended up being right! 🙂
Breanna Hough My boyfriend and I have been coming to the Zoo once a month for over a year and we call it our monthly get-away date 🙂
Ben Liebner My wife and I honeymooned in San Diego, and went to Sea World, San Diego Wild Animal Park and the San Diego Zoo, among other places. We had a fantastic time all-around!
Tricia Bayless Browne My husband & I got married in Dec. So San Diego was the obvious choice for our honeymoon. It was his first time there & of course we had to go to the zoo. We had a wonderful time & 36 years later are still having wonderful times together.
Heather Wright Met my husband at the Zoo, in the old panda exhibit, three years later we were married and had our reception in the Rondaval.
Nicholas Newman My best friend got engaged at the wild animal park, right in front of the Okapis. We were visiting our friend who's a keeper there, it was soo cute and fitting since we are all zookeepers.
Katia Stanford My fiancé and I had our first date at the zoo, and he took me back there to propose to me! He knows that I don't like public scenes, so he kept waiting for a quiet place without any people. We ended up on the trail in front of the tapir, who was the only creature to witness our engagement. 🙂 Such a special moment. The zoo holds such great memories for both of us. We love our annual memberships and keep coming back. Such a great San Diego institution and you are truly making a difference in this world. Hopefully the kids we have one day are going to see animals that would otherwise have been extinct because of your efforts. xoxo
Jennifer Russell When I was a teen back in 1987, I had the best date ever that started at the zoo. It was some sports Padre/Charger thing day, so the zoo was almost empty. After we went to lunch, and then miniature golfing at the La Mesa Family Fun Center, which is now a freeway…such a LONG time ago!
Suzanne Hanna My Fiancée' and I went on many dates at the zoo, we took many pictures which we proudly hang in our condo. We buy a pass every year because it's the perfect place for us to talk, take pictures, and see all the wonderful animals! Happy Valentine's Day everybody!!!
Judy Fink My husband and I met when we worked at the zoo 47 years ago. Got engaged and still enjoy romantic strolls around the zoo with two little grandsons.
Carmen Van de Kamp My "husband-to-be";) got the tickets and hotel night for his birthday in August 2010. The SD Zoo had always been a dream from his childhood to visit, so it was a big surprise. But even bigger was my surprise when we were in the San Diego Zoo on the 2nd day when we went into the Skyfari and right there above the Zoo he asked me to marry him, this was last December 1st. He had been preparing that since I got him the tickets in August last year for his birthday…
Coming year on the day between our birthdays (August 25 & August 27, so on August 26) we are getting married…The San Diego Zoo was always special to him as a dream from his childhood, but now it will be special for us for the love that we have for each other, which will always be connected with those 3 great days we had in the Zoo & the Wild Animal Park…& the Skyfari 😉
Scott Daugherty My wife and I grew up in San Diego together, and are both avid animal people (I'm a zookeeper, she a vet tech). We both have very fond memories of the SD Zoo, and I figured 'what better place?' We had lunch at Albert's and she knew something was up, but I kept her waiting, and popped the question on a quiet back pathway, near the koi pond. I can't imagine a better place for the both of us. 🙂
Alyssa Brislin My manager got engaged at the zoo! Her now husband proposed by the ducks at the lagoon terrace. He was trying to get her attention and get down on one knee but she was too busy rushing along to look at other things. He finally popped the question and they are now happily married.
Sarah Thatcher My husband and I, after we eloped in Vegas, came to live in San Diego. The first place we went on our honeymoon was the San Diego Zoo. I love animals so he surprised me with passes.