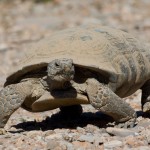 As a San Diego Zoo Global researcher based at our Desert Tortoise Conservation Center (DTCC) in Las Vegas, one of the things that really inspires my belief that the desert tortoise has a chance of surviving the threat of extinction is the interest it garners from completely uninvolved individuals. In the far northeast region of the country (read: Massachusetts), a children's literature author (fine, she's my mother), who had never heard of the desert tortoise until I joined the DTCC team, became inspired to help save it. Her contribution is a poem highlighting the trials and tribulations of being a highly sought-after pet in the Las Vegas area.
The idea came about as I was explaining to her that we recommend that people who call the Pet Desert Tortoise Hotline place a tortoise to be picked up in a box in a temperature-controlled room, such as the bathroom. I would like to share her poem in this forum for tortoise fans to read because it is both highly entertaining and accurate!
Do Tortoises Wear Shower Caps?
by R. G. Gokool
I found a tortoise in my bathroom and asked,
"Do tortoises wear shower caps?"
He replied, "Not at all,
For it could slip off, and I could fall."
"Your shell is so pale,
Would you like some polish, or some glitter on it and your nails?"
"Most certainly not, I use my shell to protect me when it's hot,
And to hide from my enemy,
Not to stand out and say, 'come and get me.'"
"Would you like to come with me to the parking lot?"
"No, I've been there before and had to withdraw into my hump,
As people tried to use me for a speed bump."
"Are you hungry? Would you like some dog food or monkey chow?"
"No, no way, no how!
I'm a desert animal, not a mammal,
I like cactus fruit, fevertail, and native grasses.
Not food that gives me lumps and makes me gaseous."
"Can I use you for a stepstool?"
"No, you can break my shell, and that would be cruel."
"Would you like to go for a swim?
We can go to the pool and jump right in."
"No, I come from the desert, nice and hot.
Not from the briny deep
Where all the sea turtles sleep."
"Would you like to meet my dog, Spot?"
"Certainly not!
"He may be cute, but not too bright,
He'll chew my leg off in one bite!"
"Can I give you and your hatchlings to my friend?"
"If you do, you'll find it's illegal and you'll pay a fine in the end."
"Can I take you home and make you mine?"
"If you do, you'll have to pay a $10,000 fine."
"Can I pick you up and give you a hug?"
"No, 'cause then I would pee,
And there are no plants for me
To get water to keep hydrated, so you see."
"Can I put you in my fish tank indoors?"
"No, 'cause I live outside. I didn't come from a pet store."
If you see a tortoise from your car,
Just admire him from afar.
Do not be sad if he doesn't wave,
For he's not that friendly a fellow,
He just wants to be left alone in his burrow.
Larisa Gokool is a research associate at the San Diego Zoo Desert Tortoise Conservation Center. Read her previous post, Bacteria, Viruses, and Disease, Oh My!