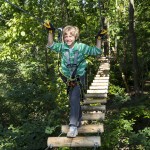 The new treetop aerial adventure, Jungle Ropes Safari, opens at the San Diego Zoo Safari Park on July 20, and we're inviting a few adventurous families to join us for the media preview event on Thursday, July 19, at 9 a.m. to try out the experience the day before it opens.* Sound like fun? Here's what you have to do to score the experience of a lifetime for you and your kids:
1. Follow the Safari Park on Twitter
2. Tweet these exact words: "My family wants a free ride on #JungleRopesSafari at the @sdzsafaripark on July 19!"
3. Sit back and see if you won.
The first few people who tweet the above will get a direct message from us with an invite to the event. If you're not one of the first, you'll be put on the waiting list. We can't wait to introduce a few lucky families to the awesomeness that is Jungle Ropes Safari. Now hurry and get tweeting!
*Due to the strenuous nature of this adventure, children must be at least 7 years old to participate. Safety restrictions require that only guests who are between 50 and 275 lbs., fit in the provided harness, and have a reach of 55 inches (measured from the sole of the foot to the up-stretched tips of the fingers) can take the Safari.  Secure, close toed shoes are required footwear.
Matt Steele is the social media planner for San Diego Zoo Global. Read his previous post, Ropes What!? Jungle Ropes Safari Opens 7/20 at Safari Park.