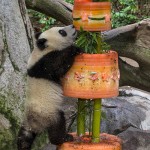 Today we celebrated Xiao Liwu's first birthday, with the help of a delicious 200-pound ice cake, colorful gifts, and adoring panda fans.
The cake was beautiful to look at as well as tasty for the birthday boy and his mother, Bai Yun. It was tinged orange with a "frosting" of mashed carrots and sweet potatoes and had the words "Mr. Wu" on the base and the large "1" on the top. There were several cardboard boxes on the ground, some painted to look like presents, one in the shape of a gorilla, and one as a giraffe, all filled with hay and biscuits. Several small pink boxes decorated with little pandas were hanging from the tree like piñatas and filled with goodies, too.

There was some concern that the cub would stay up in the tree for the festivities, but he was down when keepers came in this morning and so joined his mother in the bedroom while the exhibit was decorated. When all the goodies were in place, the door was opened to release the pair, and we all held our collective breath, cameras at the ready. It took a few minutes before Bai Yun came out and promptly ripped open the first present she came to before plopping down at the edge of the pool, with her nose seeming to touch the surface. Xiao Liwu hung back at first, but as his mother rested, he came around the front and spied the "gorilla," which gave him a start! But he recovered and meandered up to the cake, sat right in front of it, and started to explore it gingerly with his mouth and nose. Soon, Bai Yun joined him there, and they seemed to share it quite well.
Keepers were not surprised at his mellow reaction to the cake, and I'm sure everyone there got great photos of our now 42-pound panda boy. He even climbed into the tree to grab at the little piñatas, making for more photo opportunities. I noticed even Yun Zi was interested, climbing high in his artificial tree to better see what all the fuss was about next door. His turn for an ice cake will come next week, August 5, when he turns four.
Happy birthday, Mr. Wu!

Debbie Andreen is an associate editor for San Diego Zoo Global.
Celebrate Xiao Liwu's first birthday with a limited-edition adoption package! This "little gift" for your loved one includes an exclusive Xiao Liwu certificate of adoption.