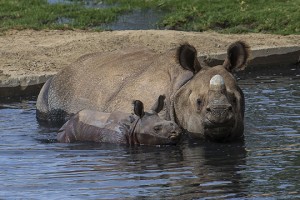 Petunia, the newest greater one-horned rhino calf at the San Diego Zoo Safari Park, was born to Tanaya on August 1, 2014. The keepers heaved a collective sigh of relief when she and Tanaya were released from the maternity corral into the 40-acre Asian Plains exhibit with the other greater one-horned rhinos. When Petunia was born, she was diminutive by rhino standards, weighing only 128 pounds (58 kilograms) instead of the usual 132 to 176 pounds (60 to 80 kilograms). Additionally, Tanaya was having trouble producing milk for Petunia, so the keepers treated her with a drug to increase milk production. As a result, the concerned keepers kept 24-hour surveillance on Tanaya and Petunia in the maternity corral for the first few weeks of Petunia's life.

Petunia is now a spunky, vibrant part of our greater one-horned rhino crash. She and Tanaya were released into the Asian Plains exhibit with the rest of the rhinos when Petunia was four weeks old. Tanaya took Petunia on a tour of her new home and has been the model protective rhino mom, never straying from Petunia's side. But Tanaya's strides are so large that Petunia trots to keep up with her. To escape the heat, Petunia has been exploring the mud wallows throughout the exhibit. She is still so tiny that she sometimes sits on top of Tanaya's feet to keep her head above water!
As Petunia gets more comfortable in her new habitat, she gets braver. I have even seen Petunia surreptitiously investigate Parvesh, the seven- month-old greater one-horned rhino calf (see post Rhino Calf Makes Own Rules). When Tanaya catches her straying toward the toddler, she quickly ushers Petunia away. Petunia is a bit too small to play with Parvesh right now, but as she continues to gain weight, she will be big enough to romp around the exhibit with her half brother. She may even catch up to him in size, as rhino calves gain about 100 pounds (45 kilograms) per month during their first year of life. Watch out, Parvesh! Petunia might be the new boss in the exhibit.
Petunia is the 67th greater one-horned rhino calf born at the Safari Park, making the Park the principal breeding center in the world for this species. The Safari Park officially celebrated World Rhino Day on September 22, but guests who love Petunia and the other rhinos as much as I do celebrate World Rhino Day every day!

Elise Newman is a Caravan Safari guide at the San Diego Zoo Safari Park.