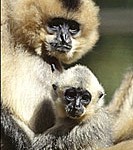 I just wanted to update everyone on the San Diego Zoo's Gabrielle's crested (or red-cheeked) gibbon, Gaby, and her new roommate, Chui (see post, Gibbon: New Home for Gaby). He arrived on May 8, is seven years old, and is Gaby's baby brother! Gaby and Chui lived with their parents and other siblings at the Wild Animal Park. When Gaby was four, she left her younger brother to come to the Zoo; now, almost five years later, they are back together again.

When we introduced them in March, it was like they were never apart. Chui caught on very quickly. He did everything Gaby did. She taught him how to play with some of his new enrichment items and showed him the best places to sleep, sunbathe, and brachiate (swing arm to arm). Now they seem to be attached at the hip! Gaby and Chui's complete vocalizations can be heard throughout the Zoo.
If you have stopped by recently, I am sure you have seen both Gaby and Chui showing off their acrobatic skills and working their gibbon charm on all their visitors. If you haven't made it down Center Street (formerly known as Bear Canyon) yet, now is the time. They are really amazing animals and a complete delight to see!
Beth McDonald is a senior keeper at the San Diego Zoo.