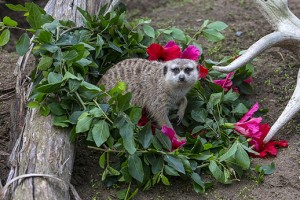 A meerkat sits in the middle of a wreath inside its enclosure this morning at the San Diego Zoo. The wreath was one of four made by animal care staff, crafted from lavender star plants grown at the Zoo and accented with a bow created from a part of a palm tree. The other wreaths sported red hibiscus flowers. All were "trimmed" with mealworms, which is part of the meerkats' usual diet.
The wreath enrichment was created to encourage the six meerkats' natural behavior to dig, forage and explore. Meerkats live in underground burrows in large groups called a mob. Meerkats have long claws to help them dig their burrows and to uncover food. They have a special membrane that covers the eye to protect it from dirt and rocks while they burrow. They also have ears that can close to keep out soil when digging.
There are wreaths and lights decorating the entire San Diego Zoo during the annual Jungle Bells celebration, presented by California Coast Credit Union. The holiday event runs now through Jan. 4, 2015, with the exception of Dec. 24, and is free with paid admission or membership to the San Diego Zoo. Visit www.sandiegozoo.org/junglebells for a schedule of other activities and more information about Jungle Bells.
Photo taken on Dec.15, 2014, by Ken Bohn, San Diego Zoo.
CONTACT: SAN DIEGO ZOO GLOBAL PUBLIC RELATIONS, 619-685-3291