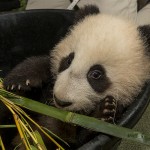 Giant panda cub Xiao Liwu was a very busy boy during his weekly exam at the San Diego Zoo. When brought from his den, the rambunctious cub went straight to his toys, climbing headfirst into a doughnut-shaped plastic ring, playing with a ball, and frolicking in a tub while chewing bamboo. He quickly indicated, by running off and squirming from his keepers, that he wanted to play versus being weighed and measured.

The cub's 20th exam showed the five-month-old panda is healthy and developing well. He is stronger, more agile, and continues to erupt baby teeth and is mouthing, chewing, and teething a bit. The young cub weighed in at 16 pounds (7.3 kilograms) and measured just over 30 inches (76.5 centimeters) in length from nose to tail tip.
"Xiao Liwu was very active, very strong, and very exploratory during his exam this morning," said PK Robbins, senior veterinarian at the San Diego Zoo. "He is moving about very quickly and exhibiting great confidence in his strength and climbing abilities. At this rate, I think we will see him venturing into more areas of the giant panda habitat very soon."
Matt Steele is the social media planner for San Diego Zoo Global.