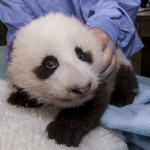 It finally happened, I was able to help with a cub exam! I have been waiting for this moment since my first look at the cub during my night watch shift. As we began setting up for the exam, my excitement quickly turned to nervousness, and my mind raced. There were cameras, researchers, veterinarians, nutritionists, fellow keepers and supervisors, and it was up to me to keep our celebrity calm!  
Then it was time: Bai Yun shifted out to her breakfast, and she was calm. Now was my chance to pick up the cub, weigh him, and bring him out for his exam. I picked him up and placed him on his blanket, along with several bamboo leaves that I had to clean off of him so he would be camera ready. I gently placed him on the scale; he weighed 7.26 pounds (3.29 kilograms)! Now out to the cameras, the veterinarian, and the nutritionist for his exam. He did so well! He made a few vocalizations here and there, and he is getting much more mobile–he even crawled–but the veterinarian and nutritionist were able to conduct a thorough exam. Success!
Jennifer Chapman is a keeper at the San Diego Zoo. Read her previous post, Night Watch: Mission Accepted.