Zoo Intern Quest is a seven-week career exploration program for San Diego County high school juniors and seniors.  Students have the unique opportunity to meet professionals working for the San Diego Zoo, Safari Park, and Institute for Conservation Research, learn about jobs, and then blog about their experience online.  Follow their adventures here on the Zoo's website!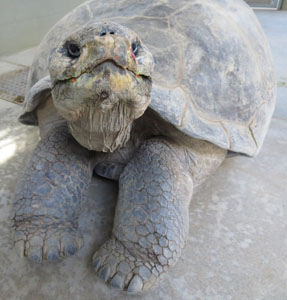 What exactly is a herp? Well, "herp" is short for herptiles, the group of animals known as reptiles and amphibians. That's why people who study reptiles and amphibians are known as herpetologists. The San Diego Zoo's herpetology collection is huge, containing over 1,300 animals! Sadly, many of the world's reptiles are now under threat of becoming endangered or worse, extinct. We met with Peter Gilson, one of the Zoo's educators, part-time keepers, and conservation researchers to learn more about what the San Diego Zoo has done to prevent that from happening.
Mr. Gilson gave us our first behind-the-scenes look with the Galapagos Tortoise exhibit. While handing out carrots and giving neck massages to the enormous reptiles, he explained to us the history of tortoise conservation, both here in San Diego and in the wild. The Galapagos tortoises here at the Zoo have been busy, having hatched 96 babies since they arrived in 1928, making them a real success story. Breeding programs for these gentle giants is essential, as most of the 14 subspecies in the wild are listed as vulnerable or endangered. In the wild, tortoise populations have been severely affected by habitat encroachment and human conflict. However, new laws and conservation programs have helped educate people around the islands, helping ensure the vitality of their species
Another major conservation issue that has the herpetology community scrambling for solutions has to do with amphibians. After being introduced to the Zoo's amphibian collection, Mr. Gilson told us about chytrid fungus, a new species which is exterminating amphibians worldwide. The fungus works by digging into its victims' skin, causing it to thicken. Since most amphibians breathe through their skin, this swelling prevents them from taking in the oxygen and other nutrients they need to survive. The scientific community currently hasn't found a cure yet, but it is believed to be linked to the use of pesticides. The disease has spread fast, already covering most of the world's prime amphibian habitat. According to Mr. Gilson, chytrid fungus has the potential to wipe out over a third of the amphibians on earth, and that is with generous estimates. Such a loss would be devastating, not just for the natural world, but for ours too. Amphibians are the world's pest control, eating all the mosquitoes, locusts, and just about every insect that has ever caused humanity trouble. Without frogs and toads to keep them in check, pest populations could grow out of control.
Here at the Zoo, there are breeding programs in place to help save some of the most threatened amphibians before its too late. For instance, the Panamanian golden frog is extinct in the wild, and the Zoo has been working since 2003 to bring them back from the brink. As of right now, 20 individuals have been born at the Zoo. Unfortunately, these new frogs cannot return to the wild because their native habitat is still too toxic. On the bright side, because of the alarming speed at which chyrid fungus has spread, conservation teams have been forced to act fast. Organizations like the International Union for the Conservation of Nature (or ICUN) has declared over 6,000 species of amphibians as vulnerable or endangered, and are dedicated to finding a solution as fast as possible.
Despite the success of the Galapagos tortoises and Panamanian golden frogs, one of the Zoo's most impressive achievements in reptile conservation is probably the Caribbean rock iguana. Mr. Gilson explained to the interns how he was fortunate enough to work with the rock iguana breeding program, which has been going on for over 18 years. There are three species of rock iguana which San Diego Zoo Global has been working to protect: the Grand Cayman Blue, the Anegada, and the Jamaican. They are all threatened, but the Grand Cayman and Jamaican iguanas are some of the most endangered reptiles in the world. In their natural environment, these huge lizards play a very important role in seed dispersion. Iguanas carry seeds from the fruit they eat across their island homes, and then deposit them to new areas in the form of iguana dung. In order to demonstrate how important the relationship between the iguanas and the plants that they eat, Mr. Gilson told us that many of the Sea Grape plants here in the San Diego Zoo were actually planted from Iguana poop! In their habitat, Rock Iguanas are threatened by invasive species like dogs and rats, which eat their eggs and young hatchlings. With the help of captive breeding, over 700 individuals have been released into the wild, significantly boosting rock iguana population. This, along with efforts to control invasive species has helped to keep these fascinating creatures from dying out.
As a lover of all things reptilian, this experience was truly memorable. Not only was I able get a hands-on view of what goes on with these creatures behind closed doors, but I also had the opportunity to really learn about the pressing issues regarding their survival outside of the Zoo. Having seen what good work is being done for these animals around the world, I strongly recommend to anyone interested to donate to San Diego Zoo Global's Wildlife Conservancy (endextinction.org). Whatever amount, no matter how small, will make a difference. As for myself, after seeing what Mr. Gilson and others like him are doing for reptile conservation, I can only say that I want in.
Mark, Conservation Team
Week One, Fall Session 2014