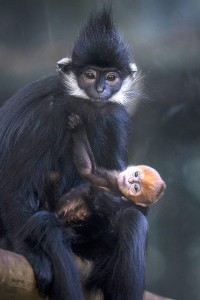 A week-old baby Francois' langur held on tightly to a subadult as members of the San Diego Zoo's langur troop foraged and climbed around their exhibit this morning. Francois' langurs, also known as Francois' leaf monkeys, practice alloparenting, which means every family member participates in raising the infant. The youngster can often be seen being passed around as each of the langurs take turns caring for their newest addition.

"The baby is doing fantastic! We're all really excited and very impressed," said Joe Milo, keeper at the San Diego Zoo. "The baby has gotten a lot stronger within just the last week. It's starting to look around and be very curious about its environment."
Langurs are born with bright orange hair while their parents are black in color. It's thought this color distinction makes it easier for the whole troop to identify and look after the infants. The youngster's color usually changes within the first six months, when the juvenile becomes an almost perfect copy of the adults.
The San Diego Zoo is home to five Francois' langurs, counting the newest arrival born on Nov. 14, which can be seen in the Zoo's Asian Passage. The Zoo was the first in North America to house Francois' langurs and established the population now found in American zoos. Researchers at San Diego Zoo Global are studying Francois' langurs to learn more about their physiology, diet and habitat use. The species is native to tropical forests in Asia.
Photo taken on Nov. 20, 2014, by Ken Bohn, San Diego Zoo.
CONTACT: SAN DIEGO ZOO GLOBAL PUBLIC RELATIONS, 619-685-3291