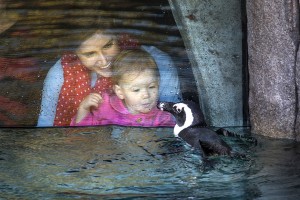 A 15-month-old girl named Caroline and her mother, Jeanna Basnett, came face to face with a male penguin at the San Diego Zoo's new penguin exhibit this morning. Today is the first day these endangered birds are viewable by guests and eager visitors took advantage of the close-up views in the penguin exhibit's underwater viewing area.
The sibling birds, both male, have been busy exploring their habitat, spending time swimming in their chilled pool and sunning themselves on the rocky beach area.

These two penguins, which are a year and a half old, arrived from the Tautphaus Park Zoo in Idaho Falls and will serve as ambassadors for their species. Animal care staff is working with these two penguins, and after some training guests may see the penguins during occasional educational appearances to bring awareness about their species, which faces many threats in the wild.
Photo taken on Dec. 18, 2014, by Ken Bohn, San Diego Zoo.
CONTACT: SAN DIEGO ZOO GLOBAL PUBLIC RELATIONS, 619-685-3291