Zoo InternQuest is a seven-week career exploration program for San Diego County high school juniors and seniors. Students have the unique opportunity to meet professionals working for the San Diego Zoo, Safari Park, and Institute for Conservation Research, learn about their jobs and then blog about their experience online. Follow their adventures here on the Zoo's Website!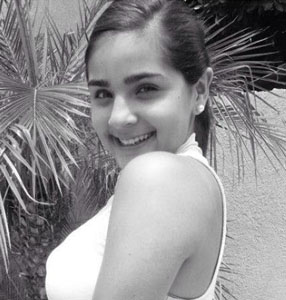 Ever since I was little, animals fascinated me. Whether it was taking care of dogs, turtles, fish, or cats by feeding them or simply playing with them, I enjoyed all the time spent with them. What really drove me to want a career in vet sciences was my own experience with my dog. Outside of loving animals, I enjoy school, especially biology, as well as ballet and track.
I am a social, and determined person. I always try to give 100% in everything that I do, and find the best in things. I enjoy talking to people, and really just being social. I also like to be positive and find the best qualities of things or situations; I guess you could say I am an optimistic person.
The event that made me want to aspire to become a vet was an incident with my dog "Snicker." He was hit by a car and lost his leg. I was taking care of all his needs, like addressing his wounds and giving him his medications. I got the idea of wanting to take care of other animals the same way I took care of my own dog. This led me to become an assistant in the veterinary hospital my dog was treated at. Learning the proper care of different animals was a memorable experience that I wanted to learn even more. I was told by my AP biology teacher of the Zoo InternQuest program, which gave students the opportunity to explore jobs in different animal and wildlife fields, such as zoo keeping, conservation. I found this to be the perfect opportunity for me, and I quickly applied.
Outside of the program, I enjoy dancing ballet as well as long distance running. Since I was 6 years old, I have been dancing jazz, contemporary dancing, and of course ballet, eventually I chose to only practice ballet. To be successful, ballet requires discipline as well as mental strength. I try to give 100% in everything I do, and always have a positive outlook. Long distance running is a hobby that I recently picked up, I began to run my sophomore year and it is something that I enjoy doing in my spare time to refresh my mind. I also like to bake. I have been baking with my grandmother since I was a little girl. I love all kinds of sweets, and of course chocolate, which is why I love baking.
I am very excited for this program, I find it to be exactly what I am looking for, which is to explore different fields in the biology world. Maybe I will even find a profession I like besides being a vet. I am looking forward to the other skills I am going to learn that will help me in my future. I know it's going to be a motivating experience.
Ivanna
Fall Session 2014