Zoo InternQuest is a seven-week career exploration program for San Diego County high school juniors and seniors. Students have the unique opportunity to meet professionals working for the San Diego Zoo, Safari Park, and Institute for Conservation Research, learn about their jobs, and then blog about their experience online. Follow their adventures here on the Zoo's website!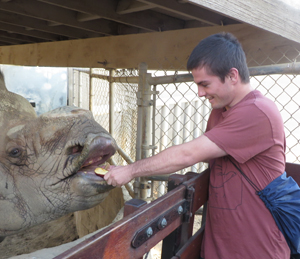 For our final week of InternQuest, we were given the opportunity to really go out with a bang. Our last visit to the Safari Park had been kept pretty secret, but as we rolled down a small back road, most of us could guess where this was going. Waiting for us in a gravel parking lot was a Safari Park Caravan, joined by two of the Safari Park's Senior Keepers, Ms. Torrey Pillsbury and Mr. Roger Peterson. They would be our guides as we learned about what goes into maintaining the Safari Park's huge plains exhibits and the animals within them. Due to the massive size of the exhibit, the animals here have developed their own herds and family groups, so the Safari Park has to go to great lengths to keep track of everyone on exhibit making sure that all the animals are happy and healthy.
The first thing you might notice about the large plains enclosures at the Safari Park is just how many animals live there. Not only are there different species of antelope, giraffe, rhino, birds, and buffalo wandering these simulated savannahs, but each of those species have their own herds. In the wild, hoofed animals live in these large groups, which move across vast areas of terrain. The Safari Park simulates this environment as best it can, ensuring that different species can get along by grouping animals from the same region. For example, the Safari Park won't put Asian rhinos in the African plains exhibit. Due to the exhibits being quite realistic, the Safari Park allows guests a unique opportunity to see natural herd behaviors.
With all these herds, it can be a real challenge for keepers to identify and keep track of each individual on exhibit, which is a big part of the job. To keep the identification process from getting too aggravating, keepers tag or put notches into the ears of the animals on exhibit. The process doesn't hurt the animals, it's just like getting an ear piercing. In notching, each triangular notch is in a different region of the ear, and each region represents a different number. These numbers are then added up, and used as the animal's unique identification. Tags on the other hand, work like earrings, with big round circles that are color coded to particular groups of numbers. For instance, a red tag means the animal's ID is in the one hundred range. Tags and notches are both used together to help keepers identify their animals more efficiently.
Even though these enclosures are designed to be as natural as possible, human intervention is still just as necessary as in typical zoo exhbits. You see, one of the side effects of having such open spaces and large herds is an increase in breeding. It can be difficult to breed hoofed animals in smaller enclosures, which typically house only a few animals, but out in the Safari Park, that isn't an issue. The problem comes when those babies are born, and have to be weighed and quickly evaluated by keepers to ensure that everything is looking healthy. The task of separating these youngsters can be extremely challenging, and according to Ms. Pillsbury, one creature in particular has shown a particular distaste towards human interference. Next time you're at the east African section of the caravan or tram tour, keep an eye out for the sitatunga. These animals are a small species of antelope who typically make their homes in marshlands around central Africa. In the Safari Park, these animals like to spend time near watering holes, where they hang out in the muddy dirt. In one instance, a baby sitatunga had been born on an island in the large exhibit. When Ms. Pillsbury and the other keepers approached her by boat and took her baby for a check-up, the mother leapt into the water and chased the keepers down! In the end, the baby received its health check-up and was returned to mom without anyone getting hurt, but it still goes to show how far a mother will go to protect baby.
Another aspect of human intervention is feeding, something we got a very up-close and personal understanding of. Feeding the animals here helps develop a relationship with keepers. Food can be used to move animals from one area to another or enrichment or as a really cool attraction for guests at the Safari Park. By allowing members of the public to get in and interact with the animals here, the Safari Park helps raise awareness and funds for conservation programs that could help their wild counterparts.
Before today, I really didn't notice how complex the animals on this plot of land really were, or how dedicated the keepers were to keeping them comfortable and enriched. Having seen so many cool things over the course of this internship, I must say that this has certainly been one of my more memorable experiences, and I won't soon forget it.
Mark, Real World
Fall Session 2014