0
– October 24, 2014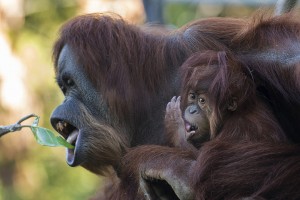 This morning, primate keepers at the San Diego Zoo finished the final preparations to celebrate the youngest ape at the Zoo. Sumatran orangutan Aisha (pronounced EYE-sha) turns one year old on Saturday, October 25, and the orangutan exhibit will be filled with enrichment items to mark the occasion.

Volunteers at the Zoo have been preparing for the big day by painting birthday boxes for Aisha and the other four orangutans in the troop. Keepers will fill the decorated boxes, and some gourds, with some of the animals' favorite treats including air-popped popcorn, raisins and peanuts.
The party will start at 9 a.m. when the orangutans are released onto exhibit and will continue until all the treats are gone. Aisha and her mother, Indah, will return to their off-exhibit bedroom at 1 p.m. Those not able to attend the event can watch the festivities on the Zoo's Ape Cam at www.sandiegozoo.org/apecam.
In her early months, it was common to see Aisha gripping tightly onto Indah's orange hair as her mother moved around the habitat and foraged for food. However, in the last several weeks the young female orangutan has been choosing to venture farther from her mother and explore other areas of the exhibit and climbing structures away from her mother.
Over the last year, keepers and guests have watched as Aisha has grown from an estimated 3 to 4 pounds at birth to an estimated 10 pounds today. Because she is always with her mother, animal care staff have never weighed Aisha. She has also sprouted 12 teeth and has started eating solid foods, but most of her nutrition still comes from nursing.
Orangutan babies grow slowly and are considered babies until they're four years old. They typically stay with their mother until they're about seven years old, the longest childhood of the great apes.
Orangutans live in tropical and swamp forests on the Southeast Asian islands of Borneo and Sumatra. The Sumatran orangutan is considered critically endangered, with an estimate of less than 7,000 remaining in the wild. Their populations have declined drastically in recent years as a result of over-harvesting of timber, human encroachment and habitat conversion to palm oil plantations. Humans can help to protect endangered orangutans by carefully checking ingredient labels and only purchasing products that contain sustainably produced palm oil.
CONTACT: SAN DIEGO ZOO GLOBAL PUBLIC RELATIONS, 619-685-3291