8
– March 21, 2012
The San Diego Zoo is very excited to announce the birth of a black duiker. On February 22, 2012, the first birth in the history of the San Diego Zoo occurred for this particular species! Black duikers are a species of small antelope found in the forests of western Africa, in countries like Liberia, Cote D'Ivoire, and Ghana. The word "duiker" is an Afrikaans word meaning "diver," because when they get frightened, they go "diving" into the bushes.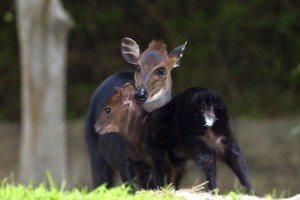 There are several species of duiker that range in size. The yellow-backed duiker, standing at about 3 feet at the shoulder, is the largest species; the red-flanked duiker is the smallest at a mere 15 inches high. You can see yellow-backed duikers at the Zoo. The black duiker is definitely on the smaller side of the scale. Not very much is known about this species' behavior in the wild. It is believed that they tend to be solitary or live in small family groups, and a family is exactly what we have now in the Zoo's okapi exhibit.
Robin, our doting mother, is doing a fantastic job! This is especially impressive since this is the first time she has had a baby. First-time mothers sometimes neglect their young, but Robin is very attentive.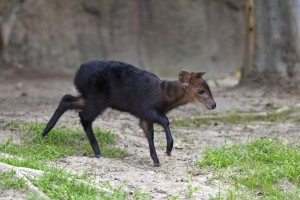 Luke is our proud papa. Males don't do much to help rear the young, and Luke, in fact, seems to be a little put off by the youngster. The little guy (as yet unnamed) adores both of his parents, sometimes opting to follow his harder-to- win-over father around the exhibit. Eventually, the neonate needs a nap and beds down in one of the available hay beds.
So, if you want to catch a glimpse of the diminutive antelope (he currently weighs about 6 pounds), come early!

Nate Schierman is a keeper at the San Diego Zoo. Read his previous post, New Animals: Pigs!