0
– March 28, 2012
Zoo InternQuest is a seven-week career exploration program for San Diego County high school juniors and seniors. Students have the unique opportunity to meet professionals working for the San Diego Zoo, Safari Park, and Institute for Conservation Research, learn about their jobs, and then blog about their experience online. Follow their adventures here on the Zoo's website!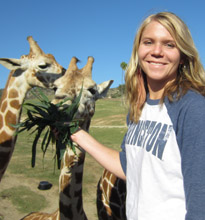 Today we met with Torrey Pillsbury, Senior Mammal Keeper for the San Diego Safari Park, who let us hitch a ride in the back of her keeper's truck to feed giraffes and rhinos!
Ms. Pillsbury's journey to becoming a Senior Mammal Keeper for the Park is a unique one. In the late 70's, she was offered an opportunity to fill in for a rider in the Park's horse show. The organizer of the production was impressed with Ms. Pillsbury's abilities at handling and riding the horses and offered her a job. She gladly accepted, and has been at the Safari Park ever since. During her years with the show, she was able to work with other large mammals, including elephants. Later, she transitioned from performing to working as a keeper.
Now as a Senior Mammal Keeper for the Africa and Asia field exhibits, Ms. Pillsbury gets up every day at 4:00a.m. It is Ms. Pillsbury's job to distribute the special diets designed for each animal. Even though the keepers and nutritionists would like each animal to eat their assigned meal, it can be very difficult in a multi-species enclosure. The keepers try to regulate what each group of animals eat by supplying them with a "universal" food which is usually several types of hay.
While the keepers are out feeding the animals or picking up after them, they keep a watchful eye out for new babies that may have been born the previous evening. It is very common for the Park to have new babies born every day, especially during the spring. When Ms. Pillsbury or another keeper spot a newborn baby, it is their job to catch it, tag it, notch it, and record it. Markings in the ears of all the hoofstock help keepers keep track of each individual animal. (This is similar to humans having a Social Security number to identify them.) The process of tagging a new baby can be difficult at times because the mothers often times will hide their babies. Mothers can be very concerned and aggressive and may even attack the keepers if they think the baby is danger. This can be a challenging situation for any keeper working in such large field enclosures like at the Park. Ms. Pillsbury, after years of experience, is quite the expert at "processing" these new animals.
Torrey Pillsbury had a unique way of becoming a part of the San Diego Zoo Safari Park. She suggests to anyone who is interested in becoming a zookeeper, gain as much hands-on experience as possible. Aspiring zookeepers should volunteer at the Zoo or another animal-related job. She also recommends looking into a program at Moorpark College, a two-year college in California which has a focus in animal training and management. While this career can be labor-intensive, Ms. Pillsbury finds the job very rewarding. She has had the rare opportunity of being involved in the hand-rearing of a baby gorilla and also rhino calf. She believe that people who are interested in zookeeping, must have a passion for animals and not mind waking up way before the sun rises!
Kayla, Careers Team
Week Six, Winter Session 2012