240
– April 29, 2013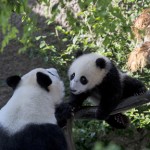 It has been about a month since giant pandas Bai Yun and Xiao Liwu have moved to the main viewing exhibit, and what a fun time it has been for San Diego Zoo guests and for our little panda boy! Mr. Wu has adjusted to the new exhibit very well, spending his days exploring every inch of his new habitat, from the ground to the trees. And when he explores the trees, he goes way up high!

Panda cubs are great climbers, and in the wild, high in the trees is the best place for cubs to stay safe. Mr. Wu can be seen lounging 20 to 30 feet (6 to 9 meters) up in the pine tree throughout the day. He is a strong climber and gets up and down with ease. Keepers have also recently installed grass sod in the exhibit, and Mr. Wu is having a great time ripping up the sod and playing with sod chunks.
Xiao Liwu continues to grow like a weed and weighs about 30 pounds (13.6 kilograms). He turned nine months old today! Although he is not yet eating a lot of solid food, he does like to chew on bamboo and really enjoys applesauce. Mr. Wu is still a mellow guy with a sweet personality, and we are all enjoying seeing him grow up and become a "big bear."
Elizabeth Simmons is a keeper at the San Diego Zoo. Read her previous post, Panda Cub Learning Routine.