0
– April 1, 2014
Zoo InternQuest is a seven-week career exploration program for San Diego County High school juniors and seniors. Students have the unique opportunity to meet professionals working for the San Diego Zoo, Safari Park, and Institute for Conservation Research, learn about their jobs, and then blog about their experience online. Follow their adventures here on the Zoo's website!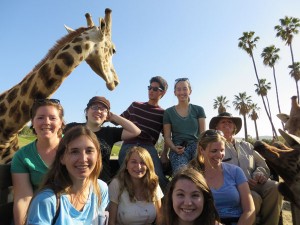 In today's world, life is a jumble of different professional opportunities. You may not always know where your career will take you, even if you've already picked a career. Interns met with Torrey Pillsbury, Senior Mammal Keeper at the San Diego Zoo Safari Park and she told us how she had no idea that she'd begun a path to zoo keeping when she took a job as a horse trainer straight out of high school. Today, she loves working with the animals on the African and Asian Plains Exhibits at the Safari Park. Zoo keeping is a fun and rewarding career, but in order to handle the job, you have to be motivated and ready to get your hands dirty.
Ms. Pillsbury has been working at the San Diego Safari Park for almost 30 years. However, she became a keeper by taking a different route than keepers would need to take today. Being a zoo keeper has become very competitive and quite often those interested need a degree and a lot of previous hands-on animal experience. As a teenager, Ms. Pillsbury worked a lot with farm animals, especially horses. At only 17 years old, she was hired on to work in the Safari Park's horse shows, alongside Joan Embry. Eventually, when the horse show closed, a friend who worked at the Park suggested that if she could ride horses, why not elephants? So she began riding elephants in the show and became the show's first female elephant trainer.
When Ms. Pillsbury trained elephants, she became more confident working with exotic animals. After working with the elephants in the Safari Park for a few years, she went off to work at the Bronx Zoo for six years to help with their breeding program with their equine animals. She returned to San Diego after her time at the Bronx Zoo and became a mammal keeper at the Safari Park. She cares for many of the animals in the open exhibits including endangered species such as the Przewalski's horses, the most endangered horse species on earth. At one time Ms. Pillsbury even helped to hand raise a baby gorilla!
Caring for horses and other animals isn't simply putting them into a pen and feeding them, though. All of the animals in the Safari Park need to have strong fences that they can't jump over or break. They also need big enough enclosures so that they will feel comfortable moving around. When we were between exhibits, we had to go pass through two different fences that stop animals from going between exhibits.
Ms. Pillsbury also makes sure that all of the exhibits look as natural as possible. Enclosures need to be clean, so, yes, keepers need to be able to shovel a lot of. In fact, keepers like Ms. Pillsbury dedicate two to three days a week to raking manure into trucks. Even so, Ms. Pillsbury says that those days are probably her favorite because she can observe the animals instead of having to keep track of them, deliver food, and record what she sees in a journal for all the keepers and vet technicians to review. There are still exciting points in her job, though. For example, sometimes keepers have to get rhinos into a pen by corralling them with trucks because they need to get them alone, usually for a check up. Ms. Pillsbury feels that her job is so important because she is responsible for a lot of different animals. Other people also rely on her, such as the vet staff who determine, from Ms. Pillsbury's observations, if they need to bring an animal to the Harter Hospital located just next to the Safari Park.
Ms. Pillsbury learned a lot of what she knows about being a keeper on the job. For her current position, the most difficult part of the job, at first, was recognizing all the different species and individuals, because there are a lot of animals she cares for. Personally, I was surprised it wasn't rounding up rhinos into a corral, but everyone has their opinions. On our trip, we saw Thompson's gazelles, rhinos, buffalo, too many kinds of deer to count, Przewalksi's horses, and by far the most memorable was the giraffes who don't know the meaning of personal space. They stuck their heads in the truck while we were feeding them.
Although being a keeper sounds time-consuming, it's completely worth it. While we were in the exhibit for just two hours, I saw why Ms. Pillsbury enjoys her job so much—there's so many animals to work with. She told us she doesn't mind leaving for work at 4:30 in the morning at all because she loves her job so much. She gets to work with animals from the other side of the globe, some of which are so endangered that they aren't even found in the wild! Her favorite part of the job is being able to come to work every day and know that everything is going to be different from yesterday.
Emily, Careers Team
Week Six, Winter Session 2014