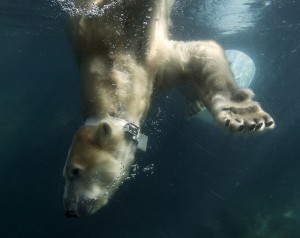 Tatqiq, a 14-year-old polar bear, dives to the bottom of her pool at the San Diego Zoo while wearing a collar outfitted with an accelerometer, which measures her movements. She is wearing the collar as part of a U.S. Geological Survey (USGS) project studying energy needs of polar bears that live in the Arctic.
Over several months, polar bear keepers trained the 520-pound polar bear to wear a 2.5-pound collar that measures three types of movement—up and down, side to side and back to front—16 times per second.
The data recorded from the accelerometer will be compared with video taken by USGS researchers of her activity on exhibit. Joining these two types of data will give scientists the ability to read the wave-graphs created by the accelerometer data and understand the behavior they represent, including swimming, pouncing, walking or running. By looking at data from collared polar bears in the wild, researchers will then be able to determine what the bears were doing without needing to observe them directly.
The polar bear's remote Arctic sea ice habitat makes it nearly impossible to collect these kinds of detailed, direct observations of polar bear behavior in the wild. The data gained from accelerometers on collared polar bears in the Arctic will provide USGS scientists with new insights into the bears' daily behavior, movements and energy demands, which will be used to better understand the effects of climate change on polar bears.
The San Diego Zoo is home to three polar bears: Tatqiq, her brother Kalluk and another female, Chinook. Polar bears are a threatened species due to climate change-driven habitat loss.
Photo taken on Feb. 9, 2015, by Tammy Spratt, San Diego Zoo Safari Park.
CONTACT: SAN DIEGO ZOO GLOBAL PUBLIC RELATIONS, 619-685-3291
RELATED POSTS