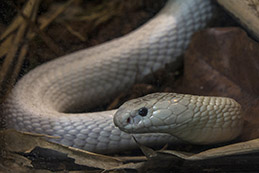 A venomous white monocled cobra that made headline news in early September, when it was reported loose in a semi-rural neighborhood in Thousand Oaks, settled into her new home earlier today at the San Diego Zoo's Klauber-Shaw Reptile House. While the snake appeared a bit shy initially, it didn't take her long to explore the habitat filled with mulch, live plants and rock ledges where she can hide, providing her the optimal opportunity to thrive and exhibit species-specific behaviors.
The leucistic cobra (leucism is characterized by reduced pigmentation, unlike albinism, which has no pigmentation) is estimated to be around 2 years of age and measures just over four feet long. The San Diego Zoo was asked to provide a home for the animal, as it was one of only two zoological facilities in the United States with the proper anti-venom for the cobra species.
Since the news first broke of the cobra being loose in Thousand Oaks, it has had a following on social media. Due to interest in this cobra, the San Diego Zoo is asking the public to help name the snake. Keepers at the Zoo came up with a list of names indicative to the snake's native region of Southeast Asia. The names are: Adhira (lightning), Sapheda (white), Krima (cream), Cini (sugar), Moti (pearl) and Sundara (beautiful.) People may go online at www.bit.ly/whitecobra to vote. The voting will end at 4 p.m. on Dec. 31; the name will be announced shortly after on the San Diego Zoo's Facebook page.
Monocled cobras are not a threatened species, but they are illegal to own in California without a permit.
Photo taken on Dec. 23, 2014, by Ken Bohn, San Diego Zoo.
CONTACT: SAN DIEGO ZOO GLOBAL PUBLIC RELATIONS, 619-685-3291
RELATED POSTS