Zoo InternQuest is a seven-week career exploration program for San Diego County high school juniors and seniors. Students have the unique opportunity to meet professionals working for the San Diego Zoo, Safari Park, and Institute for Conservation Research, learn about jobs, and the blog about their experience online. Follow their adventures here on the Zoo's website!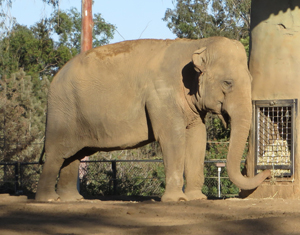 Ron Ringer and Steve Hebert are elephant keepers at the San Diego Zoo. They interact with these beautiful creatures every day. They know every elephants' personality, down to their eating habits. Many people are not aware of why elephants are so important and what makes them so magnificent. Questions like these can be answered during the daily elephant pedicure talks at the Conrad Preybs Elephant Care Center, but the interns got the opportunity to have some one-on-one time to ask them questions of our own about their jobs and what they love about it.
Mr. Ringer, Lead Keeper, has been working with elephants for thirty-two years and has worked with fourteen different elephants. Mr. Ringer remembers when he used to work with elephants via "free contact." Free contact is when keepers were able to roam about freely within the same enclosure as elephants. However, in 1989, elephants became a no contact animal in order to provide a safer environment for both the keeper and animal. The elephants, once quickly responding to their keeper's call, now taunted them from afar. They would even ignore the keepers and continue eating! As keepers adjusted, the elephants did too. 
Every day at noon at the Elephant Care Center, guests can see keepers giving the elephants pedicures. It is a great way for people to see the special relationship between humans and elephants, to learn, and ask questions. As questions are answered, the public begins to see that the role of the elephant at the Zoo is not just for entertainment; they are representing the elephants in Asia and Africa. Mr. Ringer answers one of the most reoccurring questions: why don't we release the elephants at the Zoo back into the wild? The biggest problem these elephants face is poaching and habitat loss. In Asia, land for the elephants has decreased due to the booming population. As the population increases, so does the need for housing and resources, resulting in loss of elephant territory. In Africa, elephants are hunted down for their ivory tusks, despite conservation efforts. If the Zoo were to release their elephants into the wild, they would not survive, as there is no place where they would be safe from habitat loss and poaching.
Mr. Ringer is an advocate for a conservation organization called "96 Elephants." This organization raises awareness of the 96 elephants killed a day in Africa and are dedicated to eliminating ivory imports around the world. They have gone from state to state in the U.S. to try and outlaw new ivory products by having kids draw pictures of elephants and sending them to the government. You can help too by not buying or selling ivory, staying educated, and not losing appreciation for animals.
Isabella, Real World Team
Fall Session 2014
RELATED POSTS