Zoo InternQuest is a seven-week career exploration program for San Diego County high school juniors and seniors. Students have the unique opportunity to meet professionals working for the San Diego Zoo, Safari Park, and Institute for Conservation Research, learn about their jobs and then blog about their experience online. Follow their adventures here on the Zoo's Website!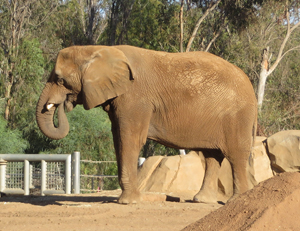 Elephants are a fan favorite at the Zoo, with their immense size and unique characteristics, it is no wonder why they are one of the top animals guest want to see. But who takes care of the elephants? Ronald Ringer, Lead Keeper, gave us a glimpse of his life as an elephant keeper at the San Diego Zoo. Mr. Ringer explained that what he enjoyed the most about his work was the uniqueness and challenge the elephants bring every day. 
Mr. Ringer's path to becoming a keeper began at Kansas State University, where he began to study biology. As budget cuts began affecting the university's biology department, Mr. Ringer looked into volunteering at the local veterinarian hospital. After Ringer graduated, he got the opportunity to become a keeper for elephants at the Kansas Zoo. After 10 years of being an elephant keeper for the Kansas Zoo, he transferred to the San Diego Zoo. Initially, his job with elephants was hands-on at first meaning he had direct contact with the animals. He explained that being that close to the elephants required a lot of "guts" due to the enormous size of the animals. Mr. Ringer admitted that even though caring for animals requires patience and determination, it really is his true passion. He enjoys the challenge and has a lot of compassion for the animals. He said he can't see himself doing anything else. 
A typical day for an Elephant keeper is definitely not a piece of cake. The day begins with a quick count of the elephants, followed by a long session of cleaning. Later in the day, the animals are checked on again to ensure they are doing alright, followed by training sessions, and lastly the keepers do, of course, more cleaning. One of Mr. Ringer's favorite things to do is to educate guests. He is open to all types of questions and always tries to give clear explanations. 
One conservation project Mr. Ringer believes kids should get involved with is "96 elephants." This project's mission is to spread awareness to end elephant poaching in Africa, where it is estimated that 96 elephants are killed each day. Kids are able to get involved by drawing pictures of elephants and sending them to their state representatives to help bring an end to the ivory trade. 
Mr. Ringer is truly passionate about he does. He has been doing it for 32 years, a very long time, but he doesn't see himself anywhere else.  Mr. Ringer has great respect for what San Diego Zoo Global is doing to help conserve all species of animals. So next time you're at the Zoo, come around noon, and check out the elephant's daily pedicure sessions, it is really a sight to see!
Ivanna, Careers Team
Fall Session 2014
RELATED POSTS