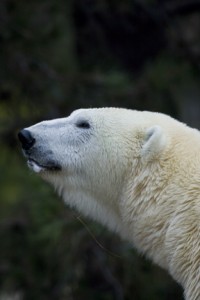 New research conducted by a team of conservation scientists provides the first systematic examination of the social information polar bears may glean from scent left in the paw prints of other polar bears. The authors also suggest that scent communication in polar bears may be compromised if climate-change driven sea ice losses in the Arctic intensify. This research was undertaken by the San Diego Zoo Institute for Conservation Research, Polar Bears International and U.S. Geological Survey in Alaska.

"Effective communication is essential for successful reproduction in solitary, wide-ranging animals," said Dr. Megan Owen, lead author of the "Journal of Zoology" study. "Developing an understanding of how communication is tied to the environment may enhance our ability to predict the impacts of rapid environmental change on populations."
This chemical form of communication was likely shaped by the environmental constraints of Arctic sea ice. Scientists worry that this communication may be impacted if scent trails are disrupted due to the increased fracturing of sea ice from climate change. Polar bears are largely solitary animals, coming together for brief periods for reproduction. As in many similar species, scent is thought to play a critical role in social communication, both in terms of avoiding potentially aggressive individuals as well as finding potential mates.
"Scent communication is instrumental in both managing aggression and motivating reproductive interest in solitary species," said Owen. "Scent communication plays a vital role in regulating social behavior and this is particularly important during the breeding season."
CONTACT: SAN DIEGO ZOO GLOBAL PUBLIC RELATIONS, 619-685-3291
RELATED POSTS