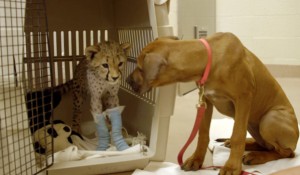 Accompanied by his puppy companion, a male cheetah cub at the San Diego Zoo Safari Park underwent surgery to repair growth abnormalities in his limbs on Wednesday, Sept. 3. The Rhodesian ridgeback puppy, named Raina, accompanied him to the veterinary hospital and waited nearby throughout the entire procedure.

The young cub was recently diagnosed with a growth abnormality in his forelegs where the growth plate in the ulna stopped growing before the radius, causing a bowing of the limbs. The surgery was performed at the Safari Park's Harter Veterinary Medical Center by consulting veterinarian Sean Aiken, of the Veterinary Specialty Hospital. Aiken was assisted by the Safari Park's Christine Molter, D.V.M., and Jeff Zuba, senior veterinarian.
"This is a condition occasionally seen in domestic dogs and, if not treated, can cause pain and problems with the animal's ability to walk later in life," said Zuba. "With the help of Dr. Aiken, who is experienced with this procedure, we were able to correct the deformity."
After surgery, the puppy, Raina, was given access to the recovering cheetah, Ruuxa, and sat by his side until he came out of his sedation. "Raina appeared very concerned about Ruuxa when she saw he was sleeping and she couldn't wake him," said Susie Ekard, animal training manager, Safari Park. "She licked him and nuzzled him, and when he awoke, she lay with him and seemed very content to know her cheetah was okay."
Ruuxa and Raina have been constant companions since being paired together at four and five weeks of age, respectively. The young cheetah is expected to make a complete recovery and should soon be running and roughhousing again with his puppy pal.
CONTACT: SAN DIEGO ZOO GLOBAL PUBLIC RELATIONS, 619-685-3291
RELATED POSTS