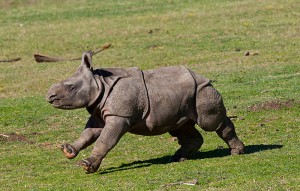 The American Association of Zoo Keepers (AAZK) has announced that it has exceeded its expectations through its unique annual fundraising effort, Bowling For Rhinos. The event, which occurs in bowling alleys throughout the U.S. each spring, has raised more than $5 million since its inception in 1990. The money raised each year contributes to conservation work protecting rhinos in the wild.

"The ongoing success of this fundraising effort shows that people across the country share our concern and caring for rhinos," said Bob Cisneros, president of AAZK National. "Every day we hear stories about rhinos lost to poaching. This year we have raised money that will make a significant contribution to our effort to protect these unique creatures."
Each year the AAZK sponsors Bowling For Rhinos. Over 60 AAZK chapters participate throughout the U.S. and Canada with an annual goal of raising $500,000. The San Diego chapter, which includes a large group of animal care staff from San Diego Zoo Global, contributed more than $217,000. Funds raised through this process support the Lewa Wildlife Conservancy (formerly called Ngare Sergoi rhino sanctuary) in Kenya, and the Ujung Kulon National Park, Bukit Barisan Selatan National Park (BBSNP) and Way Kambas in Indonesia.
"The efforts of groups like AAZK do a great deal to assist in our global effort to save species," said Douglas Myers, CEO for San Diego Zoo Global. "The success of this effort shows the tremendous dedication of our animal care staff, who work every day to conserve these species at the San Diego Zoo and the San Diego Zoo Safari Park and then spend their free time in efforts such as this."
AAZK is an organization devoted to the specialized profession of caring for exotic animal species. The organization was founded at the San Diego Zoo in 1967.
CONTACT: SAN DIEGO ZOO GLOBAL PUBLIC RELATIONS, 619-685-3291
RELATED POSTS