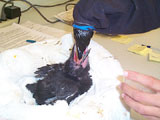 Partially feathered and squawking for meals, `alalā chicks at San Diego Zoo Global's Keauhou Bird Conservation Center keep animal care staff busy. With nine new chicks this year, the rare bird's population now numbers 114. `Alalā (also known as Hawaiian crows) are extinct in the wild, and the entire remaining population is managed in captivity through a collaborative effort by the Hawai`i Endangered Bird Conservation Program (HEBCP). Some of the chicks are fed and cared for by animal care staff, which the chicks never see to ensure they do not imprint on humans.

"`Alalā are very intelligent birds and are susceptible to imprinting", said Bryce Masuda, program manager for San Diego Zoo Global. "We use puppets to hand-rear and feed the birds when they are young to keep them from imprinting onto us, so they will behave naturally as adults."
The last `alalā were recorded in their Hawaiian forest natural habitat in 2002, where they were threatened by habitat destruction, introduced predators and avian disease. The HEBCP has been working with the species in managed care since 1993, bringing the population from a low of only 20 individuals to 114 today.
The Hawai`i Endangered Bird Conservation Program is a field program of the San Diego Zoo Institute for Conservation Research, in partnership with the State of Hawai'i Division of Forestry and Wildlife and the U.S. Fish and Wildlife Service. Planning and preparation efforts are currently underway to restore `alalā back into its vital niche within the forest ecosystem on the Big Island of Hawai`i. It is hoped that the first reintroduction activities will begin in the near future.
CONTACT: SAN DIEGO ZOO GLOBAL PUBLIC RELATIONS, 619-685-3291
RELATED POSTS