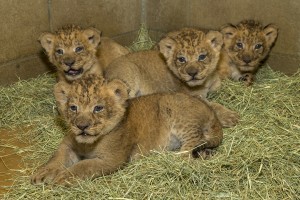 Four month-old African lion cubs peer out of the maternity den at the San Diego Zoo Safari Park. The young cubs, one male and three females, were born on June 22, 2014, to mother Oshana, who has been caring for the little felines in her den, out of public view. Animal care staff report Oshana is a very good mother and the cubs appear healthy. They are nursing, moving and vocalizing well.

The cubs will continue to bond with their mother behind the scenes over the next few weeks. When they are older and stronger, they will be able to explore a larger area of their habitat and gradually be introduced to their father, Izu, and the Safari Park's other adult female before going on public view at the Safari Park's Lion Camp.
Photo taken on July 21, 2014, by Ken Bohn, San Diego Zoo Safari Park.
CONTACT: SAN DIEGO ZOO GLOBAL PUBLIC RELATIONS, 619-685-3291
RELATED POSTS