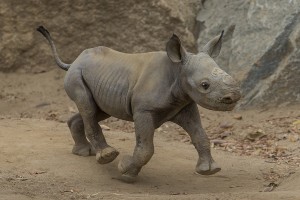 A 6-day-old black rhino stayed close to his mother this morning at the San Diego Zoo Safari Park while running around and exploring the exhibit. The male calf, born on Saturday July 12, 2014, marks a significant birth, since black rhinos are a critically endangered species with approximately 5,000 left in the wild.
"Poaching is the main reason why the numbers of black rhinos are on the decline," said Julie Anderson, a keeper at the San Diego Zoo Safari Park. "Any birth here at the Park is an important birth, and we have been very fortunate to have a newborn baby here at the Safari Park."

Mother Lembe is very protective of her young calf and runs around her exhibit with her tail pointed up, a cue that lets her calf know she is on alert and watching over him. The young calf trots closely behind, sometimes fumbling over his footing, as he is still getting comfortable keeping up with his mother.
This is the 15th black rhino born at the Safari Park and fifth calf to Lembe and father Jambia. Both mother and calf are visible to guests taking the Safari Park's Africa Tram tour.
To honor those who devote their lives to animal care and conservation, the San Diego Zoo and San Diego Zoo Safari Park, along with zoos nationwide, are celebrating National Zoo Keeper Week July 20 through 26. There are more than 6,000 zoo keepers across the U.S. who care for animals in fields that involve medical care, training, research, enrichment and education. San Diego Zoo Global salutes the animal care professionals who contribute to wildlife care and help increase public awareness about the need to preserve habitats and the creatures that inhabit them.
Photo taken on July 18, 2014, by Ken Bohn, San Diego Zoo Safari Park.
CONTACT: SAN DIEGO ZOO GLOBAL PUBLIC RELATIONS, 619-685-3291
RELATED POSTS