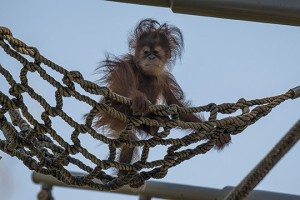 An orangutan youngster at the San Diego Zoo is now a little more than 8 months old and has begun to switch to solid foods. The playful youngster, named Aisha, was born at the Zoo October 25, 2013. Although continuing to nurse, Aisha's emerging teeth are leading her to experiment with solid foods like apples, mangos and bananas.

In addition to her nine new teeth, Aisha is continuing to grow and develop. The little orangutan climbs and plays in the outdoor habitat, never venturing more than 10 feet from her mother. Animal care staff at the Zoo indicates that Aisha is taking advantage of the opportunities provided her to learn and grow as a young orangutan would in the wild.
Photo taken on July 7, 2014, by Ken Bohn, San Diego Zoo.
CONTACT: San Diego Zoo Global Public Relations, 619-685-3291
RELATED POSTS