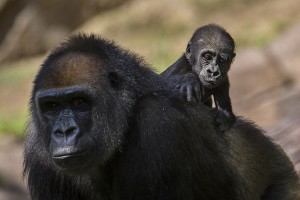 The Safari Park's youngest gorilla, named Joanne in honor of Joanne Warren, the first chairwoman of the Foundation of San Diego Zoo Global, is beginning to explore on her own and gain some independence. While the mother, Imani, and her young baby are usually inseparable, Imani has recently been letting Joanne sit and explore on her own. Keepers report that Joanne, now three months old, has mastered rolling over onto her stomach and has gotten comfortable propping herself up on all fours and scooting forward. Imani is still keeping a watchful eye over her youngster and will observe as her baby starts to venture off on her own.

The young gorilla is now confident riding on her mother's back and grips onto her hair while Imani forages and moves around the exhibit. Keepers report that around three months is when gorilla babies start to display that behavior, so Joanne is right on track with her development.
Other milestones for the young gorilla include getting her first teeth. While she's not yet eating solid foods, the young gorilla has been chewing and mouthing at items in her reach, such as acacia browse and other greens like lettuce and kale, which helps with the teething process.
"While Imani is eating browse, we've seen Joanne grab a handful and mouth it," Jami Pawlowski, keeper at the Safari Park, said. "She's got about six teeth now, so it's not quite enough to chew browse, but she definitely mouths and will suck on it; anything big and attractive that her mom is holding, Joanne will try to investigate."
Joanne was born at the Safari Park on March 12, 2014, after a rare emergency C-section was needed. This is the first baby for Imani and the 17th gorilla to be born at the Safari Park. The Safari Park is home to eight gorillas, including the youngest gorilla, Joanne.
Photo taken on July 3, 2014, by Ken Bohn, San Diego Zoo Safari Park.
CONTACT: SAN DIEGO ZOO GLOBAL PUBLIC RELATIONS, 619-685-3291
RELATED POSTS