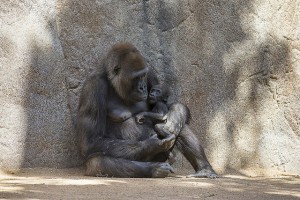 Joanne, the littlest gorilla at the San Diego Zoo Safari Park, is in the process of learning how to crawl. So far she has mastered rolling over onto her stomach and has gotten very good at propping herself up on all fours and scooting forward inch by inch. During this independent time, her mother, Imani, usually keeps a watchful eye on the other kids in the group, 5-year-old Frank and 3-year-old Monroe, who are eager to play with their new sibling, sometimes a bit too roughly. Growing up with older brothers will certainly help to make Joanne one tough little girl!

The biggest adventure the little one has had on her own so far was witnessed by ecstatic keepers during the gorillas' lunchtime. Using fistfuls of grass as leverage, Imani's little girl was able to crawl about three feet uphill, a bit more rock climbing than crawling, while Mom munched on broccoli and watched her baby's feat from over her shoulder. Worn out, Joanne plopped down on her stomach and let Mom retrieve her.
Every day brings an exciting new accomplishment for this 3-month-old!
Jami Pawlowski is a keeper at the San Diego Zoo Safari Park. Read her previous post, Gorilla Baby: Chew on This.
RELATED POSTS