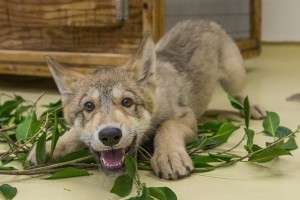 A playful, two-month-old gray wolf pup is spending time in the Children's Zoo nursery at the San Diego Zoo. The 23-pound pup, named Shadow, is in the process of completing a 30-day quarantine, after which he will live at Wegeforth Bowl and serve as an ambassador for his species.

Animal care staff members are introducing Shadow to various smells and sights, which will help prepare him for his new role as an animal ambassador. Keepers working with Shadow give him items such as ficus browse to smell and chew, ice cubes to chase around or cardboard boxes to climb on. The young wolf can also see guests visiting him at the nursery, which keepers say is also beneficial.
"He sees people in the window when they come by to visit; these things are all new and interesting to him. You'll see him key in on something and really get in tune with it," said Kim Weibel, senior keeper at the San Diego Zoo. "That's a neat thing with wolves, the way they tune into things; they are very intelligent."
Guests visiting the Zoo can see Shadow in the Children's Zoo nursery in the Zoo's Discovery Outpost. The Children's Zoo currently has extended hours and is open until 8:30 p.m. for Nighttime Zoo, the annual summertime event during which the Zoo is open from 9 a.m. to 9 p.m. through Sept. 1.
Photo taken on July 1, 2014, by Ken Bohn, San Diego Zoo.
CONTACT: San Diego Zoo Global Public Relations, 619-685-3291
RELATED POSTS