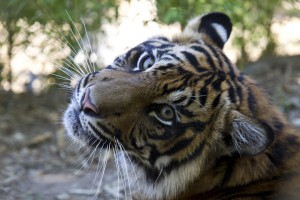 A new dining experience at the San Diego Zoo Safari Park provides the opportunity to have breakfast with the Safari Park's Sumatran tigers. Breakfast with Tigers is held on Saturdays from June 28 through August 16, 2014. The event includes an open buffet, featuring a traditional American hot breakfast, in the Tull Family Tiger Trail's Sambutan Longhouse between 8 and 9 a.m., before the Safari Park opens to the public.

The new dining experience is also an opportunity to view the tigers in their yards and speak with a tiger keeper, who will be on hand during the breakfast to share stories about the large cats. The keeper will invite one of the Safari Park's six tigers over to the interactive wall to demonstrate a training session during the breakfast.
After the breakfast, guests can explore Tiger Trail and the rest of the Safari Park at their leisure. Tickets are $45 for Breakfast with Tigers; Park admission is sold separately.
The recently opened Tiger Trail is a 5.2-acre forested habitat. It offers up-close views of the Safari Park's Sumatran tigers and highlights conservation efforts for the species. Tiger Trail features three separate yards for the tigers, with rocks for climbing and lounging, ponds for swimming, deadwood trees to use as scratching posts and long grasses for catnaps.
CONTACT: SAN DIEGO ZOO GLOBAL PUBLIC RELATIONS, 619-685-3291
RELATED POSTS