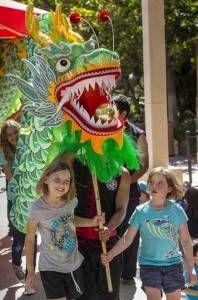 Young visitors at the San Diego Zoo Safari Park danced and interacted with a Chinese dragon puppet during Summer Safari: Asian Celebration presented by LivingSocial.
Summer Safari is an extravaganza of rhythmic drumming, astounding acrobatic feats, impressive martial arts demonstrations and more. From the moment guests enter the Safari Park they are immersed in Asian-themed festivities and up-close encounters with spectacular animals like tigers at the all-new Tiger Trail, lemurs at Lemur Walk, unique and amazing birds at the Frequent Flyers bird show, and a cheetah reaching full sprinting speed just feet away from spectators at Shiley's Cheetah Run.

Visitors to Summer Safari will be awed by agile performers balancing on chairs stacked more than 16 feet in the air, foot juggling while on a unicycle, gymnasts forming a human tower while spinning plates on sticks, contortion acts combined with comedy for kids, and lion dancing and Japanese drumming, performed with the assistance of young audience volunteers.
Summer Safari: Asian Celebration runs now through Aug. 17, 2014, with extended Park hours from 9 a.m. to 7 p.m. All Summer Safari festivities are included with admission or Safari Park membership.
Photo taken on June 24, 2014, by Ken Bohn, San Diego Zoo Safari Park.
CONTACT: SAN DIEGO ZOO GLOBAL PUBLIC RELATIONS, 619-685-3291
RELATED POSTS