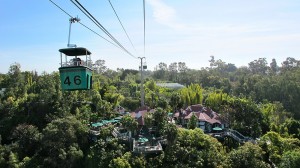 Recently returned from a trip across the United States, San Diego Zoo Global's national spokesperson, Rick Schwartz, took a different kind of flight today as he worked to set a record for the longest ride on the San Diego Zoo's iconic Skyfari aerial tram. Documenting his voyage on social media, Rick spent more than 2 hours on a continuous ride through the Zoo's skies.

"This is an aerial ride over some of the most interesting areas of the Zoo, and it usually only takes a few minutes," said Schwartz. "Spending this much time up here, I was really able to enjoy the beauty of the view and observe a lot of interesting animal behavior, particularly with the gorillas and pandas."
The Zoo's Skyfari ride opened in 1969 and rises up to 170 feet. The aerial tram has carried millions of guests and is a well-known feature of the park. Alaska Airlines just announced its sponsorship of the tram and is working with San Diego Zoo Global to promote the conservation of species and resources.
"The San Diego Zoo has a reputation for being one of the world's best," said Mark Bocchi, Alaska Airlines' managing director of sales and community marketing. "San Diego Zoo Global's conservation efforts are a natural fit with our commitment to sustainability, and we're excited to help our customers explore more with this wonderful organization."
With efforts that have reduced its carbon footprint by 30 percent over the past decade, such as significant recycling initiatives and using satellite-based navigation to fly more efficiently, Alaska Airlines' environmental initiatives made the airline a partner of choice for the San Diego-based conservation organization. Learn more at http://blog.alaskaair.com/2014/06/10/recycling-sort/.
CONTACT: San Diego Zoo Global Public Relations, 619-685-3291
RELATED POSTS