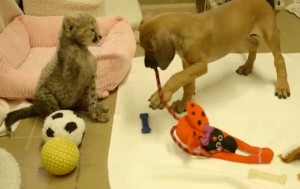 Ruuxa, a 7-week-old cheetah cub, and Raina, the cub's 8-week-old Rhodesian ridgeback puppy companion, played in the San Diego Zoo Safari Park's animal care nursery under the watchful eyes of their trainers earlier today. Safari Park visitors received a special treat when the nursery window was opened for the first time since the cub and puppy were paired, allowing guests to see the Safari Park's newest ambassador animals as they bond.

The young cheetah was chosen to be raised as an animal ambassador at the Safari Park after he was rejected by his mother and had to be hand raised by keepers. Safari Park ambassador cheetahs are paired early in life with a domestic dog for companionship. This young pair will be monitored closely as their friendship develops.
"Cheetah cubs and puppies develop at vastly different rates," said Susie Ekard, animal training manager, San Diego Zoo Safari Park. "Raina is very sweet-natured and loves Ruuxa, but Raina is twice the size of Ruuxa and is very enthusiastic, so we will provide supervised visits between the pair until the cheetah gets older and stronger."
As the two companions grow up together, the dog's body language will communicate to the cheetah that there is nothing to fear in new or public surroundings, which relaxes and calms the cheetah.
Visitors to the Safari Park may see the pair in the Safari Park's animal care center from 12:15 to 1 p.m. daily.
CONTACT: SAN DIEGO ZOO GLOBAL PUBLIC RELATIONS, 619-685-3291
RELATED POSTS