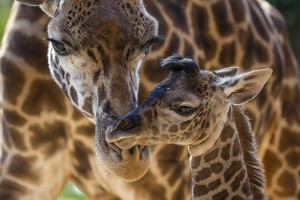 Harriet, a Masai giraffe, attends to her four-day-old calf at the San Diego Zoo. The male was born on June 16, standing 6 feet 2 inches tall and weighing 146 pounds. This is Harriet's second calf; the little one's father is Silver, the herd's sire.

The birth of this calf comes just in time for the Zoo's observance of the first annual World Giraffe Day on Saturday, June 21. World Giraffe Day will be observed by zoos and conservation organizations worldwide to raise awareness about the tallest mammal and shed light on challenges giraffe face in the wild. World Giraffe Day activities at the Zoo will include an Open House at the Zoo's giraffe barn, where guests can go behind the scenes and meet keepers who can provide information on giraffe conservation, interesting facts about giraffes and answer questions about the Zoo's six Masai giraffes, including the newest member of the herd.
Giraffe populations have decreased from approximately 140,000 in the late 1990s to less than 80,000 because of habitat loss and competition with livestock for resources. As a result, the future of giraffes is dependent on the quality of habitat that remains. San Diego Zoo Global supports community conservation efforts in Kenya and Uganda that are finding ways for people and wildlife to live together.
Photo taken on June 19, 2014, by Ken Bohn, San Diego Zoo
CONTACT: SAN DIEGO ZOO GLOBAL PUBLIC RELATIONS, 619-685-3291
RELATED POSTS