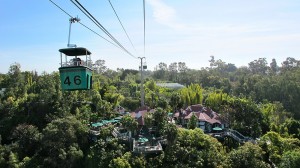 Fly with the birds at the San Diego Zoo and become part of a social media campaign to raise awareness for flighted creatures through a unique partnership with Alaska Airlines. As the official airline sponsor of the Zoo, Alaska Airlines will be featured on the Zoo's iconic Skyfari aerial tram gondolas. During trips on the Skyfari in June, guests will be encouraged to tweet their thoughts about flying animals of all kinds in conjunction with the Zoo's national spokesperson, Rick Schwartz, as he tries to set a record for the longest ride on Skyfari.

"The San Diego Zoo has a reputation for being one of the world's best," said Mark Bocchi, Alaska Airlines' managing director of sales and community marketing. "San Diego Zoo Global's conservation efforts are a natural fit with our commitment to sustainability, and we're excited to help our customers explore more with this wonderful organization."
With efforts that have reduced its carbon footprint by 30 percent over the past decade, significant recycling initiatives and using satellite-based navigation to fly more efficiently, Alaska Airlines' environmental initiatives made the airline a partner of choice for the San Diego-based conservation organization.
"In 2013, Alaska Airlines was ranked the most fuel-efficient domestic carrier in the United States by the International Council on Clean Transportation," said Ted Molter, chief marketing officer for San Diego Zoo Global. "This is just one of the many impressive green statistics that make it the perfect transportation partner for our organization."
Alaska Airlines has an award-winning inflight recycling program, and has succeeded in reducing waste-per-passenger by 52 percent since 2010. Each of the carrier's flight kitchens recycle the aluminum, paper, plastic, and glass collected by flight attendants. Alaska Airlines operates 52 peak-day flights to and from San Diego to 14 destinations.
CONTACT: SAN DIEGO ZOO GLOBAL PUBLIC RELATIONS, 619-685-3291
RELATED POSTS