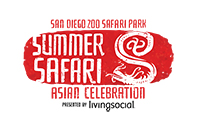 The San Diego Zoo Safari Park's Summer Safari Asian Celebration presented by LivingSocial kicks off on Sat., June 21, 2014, and runs through Sun., Aug. 17. The annual summer event, with an all-new Asian flair, offers animal encounters and entertainment, with extended Park hours from 9 a.m. to 7 p.m. daily.
From the moment guests enter the Safari Park, they are immersed in Asian-themed festivities and up-close encounters with animals, including Sumatran tigers at the new Tull Family Tiger Trail. Tiger Trail features three separate yards for the big cats with rocks for climbing, ponds for swimming, deadwood trees to use as scratching posts and long grasses for catnaps.

New acts including Chinese acrobats, Japanese Taiko drummers and martial arts masters headline the list of Summer Safari entertainment, providing interactive experiences for Park guests. Performances take place in Safari Base Camp with multiple shows scheduled from noon to 7 p.m. each day. The Golden Tiger acrobat troupe features contortion, chair acts and foot juggling; the Red Panda acrobats, with entertainer Wayne Huey, blend comedy with acrobatic feats; the White Dragon Martial Arts group provides skilled martial art demonstrations and traditional dance performances with Chinese dragon puppets; and the Taiko Project brings the art of Japanese Taiko drumming, a broad range of Japanese percussion instruments, to the Park.
In addition to Asian-themed entertainment and the Tiger Trail experience, Summer Safari guests may take in the Frequent Flyers bird show, witness a cheetah running at full sprinting speed just feet away at Shiley's Cheetah Run, learn about tigers or elephants at a keeper talk and meet animal ambassadors, from an armadillo to a warthog, at scheduled presentations.
The Africa Tram tour offers animal sightings as an open-air vehicle transports guests around the Safari Park's African field enclosures where herds of animals such as Cape buffalo, Grant's gazelles and oryx roam. Among the Park's many eateries is the Watering Hole at the African Plains Overlook, an outdoor venue with patio furniture in which to lounge while viewing a herd of giraffes, a crash of rhinos and flocks of exotic birds. At the edge of Mombasa Lagoon, the Bamburi Boat Bar offers guests a chance to drink cocktail favorites and relax at the bar fashioned out of a boat while gazing across the lake inhabited by waterfowl, including the rare shoebill stork.
All Summer Safari Asian Celebration festivities are included with Safari Park admission or membership. For a complete schedule of activities and more information, visit www.sdzsafaripark.org.
CONTACT: SAN DIEGO ZOO GLOBAL PUBLIC RELATIONS, 619-685-3291
RELATED POSTS