Inside was a beautiful red, blue, and gray coloring on purple paper of a crash of rhinos. (Yes, a group of rhinos is called a crash!) It said "I (heart) rhinos." Each of the rhinos was colored with a gray crayon. It was beautiful. On the back was a note from a child from Washington state. It said: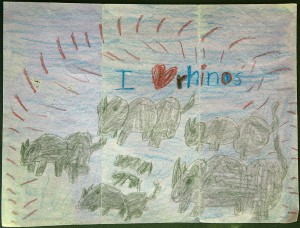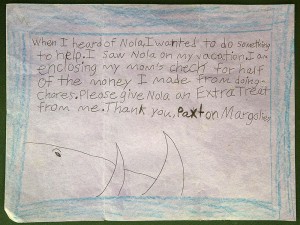 "When I heard of Nola, I wanted to do something to help. I saw Nola on my vacation. I am enclosing my mom's check for half of the money I made from doing chores. Please give Nola an Extra Treat from me. Thank you, Paxton."
These simple words brought a smile to my face and a tear to my eye. In this short note, the purpose of my work was clearly laid before me. Nola is in danger of being the last of her kind because of the greed of humans. Rhinos are being poached for their horns at a rate of one every eight hours, and the rate is rising. Nola needs our help to live out her life with dignity knowing she is protected from poachers, unlike her counterparts in the wild. I also need to make sure she enjoys her life here at the Park, to give her "extra treats."
The message we share at San Diego Zoo Global is a message of time. We are running out of time to stop the extinction of this species. Luckily, we are reaching the next generation with our message. When young children like Paxton return home after visiting the Safari Park and realize they can make a difference, we have lead the fight against extinction. If a 10-year-old boy can recognize the need to help rhinos—and all animals, for that matter—we have successfully shared our message that wildlife is in danger. We all must do our part to end extinction now. I will continue to care for Nola, provide her with "extra treats," and work tirelessly to save rhinoceroses.
Paxton, you are my hero for wildlife, and I am proud to be part of the team that will work with you to help the northern white rhino, to stop extinction now. What you do does make a difference!
Jane Kennedy is a lead keeper at the San Diego Zoo Safari Park, is president of the International Rhino Keeper Association, and is the North American Regional Studbook Keeper for the greater one-horned rhinoceros. Read her previous post, Giraffe Calves Galore!
RELATED POSTS
On occasion, I am reminded that what each of us does in this world does make a difference. Recently, a letter was sent to the "San Diego Zoo: Nola, the Northern White Rhino." Nola is the one of the last of her kind, a northern white rhinoceros of which only seven remain in the world. Nola, who turns 40 this year, lives at the San Diego Zoo Safari Park's South Africa field habitat. Her male counterpart is Angalifu, age 42, who is the only bull northern white rhino left in captivity; he lives in our Central Africa field habitat. One other older female lives in a zoo in the Czech Republic and four northern white rhinos live on a game reserve in Kenya, guarded around the clock by Rhino Protection Units. These seven animals represent a species on the verge of extinction. I am privileged to be Nola and Angalifu's lead keeper, so the letter was forwarded to me.