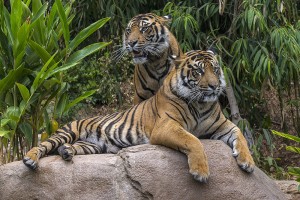 A ceremonial ribbon cutting took place at the Tull Family Tiger Trail at the San Diego Zoo Safari Park earlier today, and preview guests were given a sneak peek into the Sumatran tigers' new home, which officially opens to the public on Saturday, May 24, 2014.
Tiger Trail, a 5.2-acre forested habitat, offers up-close views of the Safari Park's six Sumatran tigers and highlights conservation efforts for the species. Upon entering Tiger Trail, guests are immersed in the habitat and habitation found in the tigers' native land. The Tiger Trail experience features three separate yards for the tigers, with rocks for climbing and lounging, ponds for swimming, deadwood trees to use as scratching posts and long grasses for catnaps.

Tiger Trail also features a pondok, an Indonesian hut or shack, where guests can learn how poaching and the illegal trade of animal products are impacting the survival of tigers and other animals that share their habitat. In the center of Tiger Trail sits the Sambutan Longhouse, a simulated cultural center where guests can view tigers within inches through tempered glass. At the Tiger Training Wall, visitors may experience a keeper interacting with a tiger up close or helping guests play tug-of-war nearby as part of the tigers' enrichment activities. Down the pathway from the longhouse, a waterfall allows the water-loving tigers to get wet.
Tiger Trail is included in Safari Park admission or with membership. The tigers also can be viewed online via the Safari Park's Tiger Cam at www.sdzsafaripark.org/tigertrail.
There are fewer than 350 Sumatran tigers in the wild, and that number continues to drop. Scientists estimate that this species could be extinct in its native Sumatra by 2020, unless measures are taken to protect and preserve it.
Tigers face many challenges in the wild, from loss of habitat to conflicts with humans, but the biggest threat continues to be poaching. Tigers are killed by poachers, who then illegally sell tiger body parts, mostly for folk remedies. People can help protect wild tigers by avoiding products that harm tiger habitat and refusing to purchase items made from endangered wildlife.
CONTACT: SAN DIEGO ZOO GLOBAL PUBLIC RELATIONS, 619-685-3291
RELATED POSTS