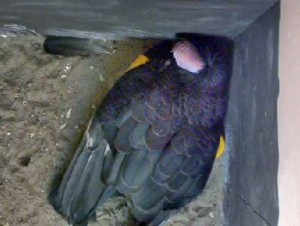 A California condor egg was successfully hatched to condors Towich and Sulu at the San Diego Zoo Safari Park this week. Animal care staff members made the decision to intervene and help with the hatching of this newest chick once they noticed the embryo in the egg wasn't positioned correctly, making a natural hatch unlikely.

Animal care staff had to remove a small piece of shell when they observed the chick was ready to hatch before placing the egg with foster parents Towich and Sulu, who successfully hatched the chick.
In managing genetics for condors, sometimes eggs are transferred from one breeding center to another. In this case, Towich and Sulu are the foster parents for an egg that was produced at the Los Angeles Zoo and transferred to the Safari Park. To diversify the genetics of the condor population, eggs or condors are transferred to various locations. With this case, four eggs in total were transferred between the Los Angeles Zoo and the Safari Park.
Condor fans interested in seeing the new chick can see the San Diego Zoo Wildlife Conservancy's online Condor Cam to watch as Towich and Sulu raise this chick as their own.
"The condor program is very complex, and the Condor Cam allows thousands of people to see some of the activities that go on behind the scenes as we prepare chicks for release in the wild," said Michael Mace, curator of birds at the San Diego Zoo Safari Park.
Since the recovery program began in the 1980s, when there were only 22 condors left in the wild, the Safari Park has hatched 185 chicks and released more than 80 birds in the wild. There are now more than 400 condors, half of which are flying free in California, Arizona, Utah and Baja California, Mexico.
CONTACT: SAN DIEGO ZOO GLOBAL PUBLIC RELATIONS, 619-685-3291
RELATED POSTS