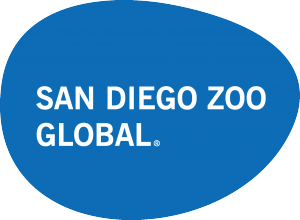 On March 6, 2014, a group of more than 50 school children hiked into the new Discovery Forest around the Keauhou Bird Conservation Center (KBCC) to take part in reclaiming the disappearing wild lands of Hawai'i. As part of an ongoing conservation effort led by San Diego Zoo Global and the Hawai'i Forest Institute (HFI), the group took part in a day of learning and planting, with more than 300 koa trees planted.

"We are very excited to work with HFI on this project," said Bryce Masuda, conservation program manager for the San Diego Zoo Institute for Conservation Research. "Once the forest canopy grows and understory develops, we will also be able to feed some of the native fruits produced in the KBCC Discovery Forest to birds that we breed here in captivity."
Once a koa forest is established, understory fruiting species that are key to the diets of rare bird species can be planted in the area. Fruiting species include hōawa, kōlea, maile, māmaki, māmane, 'ōhelo, 'ōlapa, pilo and 'ie'ie. The trees planted by the school group are the beginning of a new native tree forest that will support the native bird species in the future. More than 650 koa and 200 mamane trees were planted in the forest throughout the month of March.
"We are thrilled to be collaborating with KBCC to create the first phase of the Discovery Forest, which was made possible through a grant from the Hawai'i Tourism Authority and Hawai'i Community Foundation," said HFI Executive Director Heather Simmons.
Koa trees are an essential part of native Hawaiian forests. These rare trees improve soil quality through a chemical process called nitrogen fixation, allowing other native plants, like the fruiting trees necessary for native bird life, to grow in the nutrient-poor, lava-based soil. In addition, koa are the dominant crown cover in some areas, providing watershed protection and playing a large part in Hawaiian culture.
"There are some species that will disappear entirely if koa forests no longer exist," said Richard Switzer, associate director of applied animal ecology for the San Diego Zoo Institute for Conservation Research. "Wild bird species such as 'akiapōlā'au are koa specialists and require large, old-growth koa trees for foraging on insect larvae. Other species, the 'akepa and 'ōma'o, use primarily koa for foraging and nesting in cavities."
The Keauhou Bird Conservation Center's Discovery Forest is a new project and part of Hawai'i Forest Institute's Mahalo 'Āina: Give Back to the Forest program. Using propagation and release techniques, KBCC is reestablishing self-sustaining populations of critically endangered Hawaiian birds in the wild. For Phase I, HFI began work with KBCC and other community partners to create the 1.8-acre Discovery Forest with 1,200 native koa trees. This project has provided service-learning opportunities for youth volunteers and has helped develop habitat and food for native birds. The land is owned by Kamehameha Schools and is leased to KBCC.
The project to re-establish the koa forest has been funded through the support of the Hawai'i Community Foundation and the Hawai'i Tourism Authority. The koa seedlings were donated by the Three Mountain Alliance.
The Hawai'i Forest Institute (HFI) is a 501(c) (3) statewide, nonprofit organization, incorporated in Hawai'i in 2003. HFI's mission is to promote the health and productivity of Hawai'i's forests through forest restoration, education, information dissemination, and support for scientific research.
The Hawai'i Forest Industry Association (HFIA), which was incorporated in Hawai'i in 1989, formed HFI and is its sole member. HFI projects benefit the Hawaiian Islands, and ongoing projects include:
* Restoration and outreach at a 76-acre forest preserve at Ka'ūpūlehu in Kona and a 70-acre endangered species preserve at La'i'Ōpua in Kona
* Forest demonstration projects at the Pana'ewa Zoo, Honolulu Zoo, and Keauhou Bird Conservation Center
* Native Hawaiian Seed Bank Cooperative, collection and storage of seed for fire mitigation, restoration and research projects
* Hawai'i Forest Journal, a publication of environmental stewardship.
Kamehameha Schools is a private charitable educational trust endowed by the will of Hawaiian Princess Bernice Pauahi Bishop (1831-1884), the great-granddaughter and last direct descendant of King Kamehameha I. The mission of Kamehameha Schools is to improve the capability and well-being of Hawaiians through education. We achieve our mission by operating an educational system serving over 6,900 students of Hawaiian ancestry at K-12 campuses on O'ahu, Maui and Hawai'i island, and at 31 preschool sites statewide. As Hawai'i's largest private landowner, KS is responsible for the stewardship of over 365,000 acres of land on Hawai'i island, Maui, Moloka'i, O'ahu and Kaua'i. A small fraction of Princess Pauahi's lands are in commercial real estate and properties. Over 358,000 acres of the trust's lands are dedicated to conservation and agriculture. (http://www.ksbe.edu/about/)
CONTACT: SAN DIEGO ZOO GLOBAL PUBLIC RELATIONS, 619-685-3291
RELATED POSTS