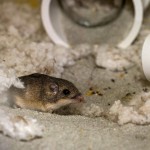 The second captive breeding season for the Pacific pocket mouse started in March, and San Diego Zoo Global scientists welcomed the first litter on April 1, 2014. The four pink, hairless pups are being kept safe in the back of a densely packed nest inside the pocket mouse breeding facility at the San Diego Zoo Safari Park. The mother of this litter was the first Pacific pocket mouse born in the captive breeding program, which began in 2013 and is managed by staff at the San Diego Zoo Institute for Conservation Research in cooperation with the U.S. Fish and Wildlife Service.

The inaugural breeding season for this critically endangered species, native to California, yielded 16 pups between May and August 2013. Now that the breeding program is in place, scientists expect the second breeding season to yield even more pups; pocket mice remain active for breeding from spring into fall. The gestation period for a Pacific pocket mouse is 23 days and the species can reach sexual maturity in less than two weeks. Because of this, it is expected that pocket mice born during this breeding season might also reproduce this season.
The Pacific pocket mouse breeding facility is in an off-exhibit area at the San Diego Zoo Safari Park but uses air conditioning and humidifiers to mimic the coastal temperatures and humidity the mouse requires. The facility is also equipped with large skylights to make sure these nocturnal animals are attuned to the rising and setting of the sun, which cues their activities. The animals' nocturnal nature also requires researchers to observe them at night without disturbing them by using red light, which is not visually perceived by the animals.
In 2012, fewer than 30 adult Pacific pocket mice were taken from three remaining wild populations to form the breeding colony at the Safari Park.
The Pacific pocket mouse, thought to be extinct in the 1980s, was rediscovered in 1993 and today exists at just three sites along Southern California's coast: Dana Point, Santa Margarita and South San Mateo. Scientists working on the breeding program for the Pacific pocket mouse expect to increase the overall population and also maintain genetic diversity in the species. In the wild, the three Pacific pocket mouse habitats are divided by human development, so there is no chance for interbreeding.
CONTACT: SAN DIEGO ZOO GLOBAL PUBLIC RELATIONS, 619-685-3291
RELATED POSTS