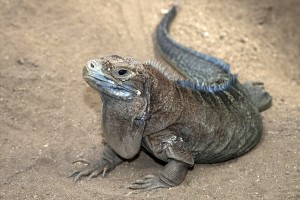 In 1990, the Jamaican iguana was removed from the list of extinct species when a small population was re-discovered on the island. Unfortunately, the species continues to be critically endangered, with only a single location left for the recovering population, now greater than 200 individuals, in a protected area called the Hellshire Hills, part of the Portland Bight Protected Area. A recent proposal by Jamaican government officials to allow extensive development in this area is causing concern among conservationists who have been working to save this species and the wealth of biodiversity in the area.

"We have been working for more than 20 years to save this species and have been delighted as each new generation is 'headstarted' and released into the wild," said Tandora Grant, research scientist with the San Diego Zoo Institute for Conservation Research. "It is heartbreaking to think that all of this effort and the support of our donors will have been for nothing if this area is opened for substantial development."
The species update, including information about the move by foreign investors to develop within the protected area, is the subject of a science note in the April 2014 edition of Oryx, an international conservation journal.
CONTACT: SAN DIEGO ZOO GLOBAL PUBLIC RELATIONS, 619-685-3291
RELATED POSTS