Zoo InternQuest is a seven-week career exploration program for San Diego County high school juniors and seniors. Students have the unique opportunity to meet professionals working for the San Diego Zoo, Safari Park, and Institute for Conservation Research, learn about their jobs and then blog about their experience online. Follow their adventures here!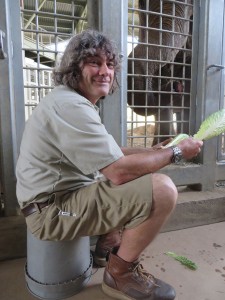 What does it take to care for one of the largest mammals on the planet? Strong and intelligent, elephants can weigh up to 7.5 tons, be over 10 feet tall and eat almost 120 pounds of food every day! Although they are native to the savannas and grasslands of Africa and the tropical forests of Asia, who watches over them at the Zoo?

Deep within the dry, open environment of Elephant Odyssey, we met with Steve Herbert, a senior keeper who works with the 7 elephants (one male and six females) along with the 11 other elephant keepers. Mr. Herbert has worked with animals for over 22 years, and during this time has worked with 54 different elephants. His primary job includes feeding the animals, cleaning the enclosures, and the overall welfare of the elephants. Due to his extensive experience with a variety of animals, he is also a late keeper for many animals beyond Elephant Odyssey, meaning he is one of the last keepers to leave at the end of the day. This means he is often solely responsible for providing late-night medications and last-minute check-ups on animals before he leaves the Zoo.
Before arriving at the San Diego Zoo, Mr. Herbert worked at a wildlife safari in Oregon in the 1980s, at a time when "free contact" with elephants was still allowed. Due to his enthusiasm and availability, he was able to work with a number of animals, including reptiles, birds, primates, cows, and, eventually, elephants. Occasionally, an employee went on vacation or was out sick, and Mr. Herbert was available and willing to step into many different roles, where he was able to work with more exotic animals such as lions, timber wolves, mountain lions, and bears. Eventually, Mr. Herbert's experience with animals became so well known that he was offered a job in Kansas City. After a year and a half of working in Kansas City, Mr. Herbert moved out to the beautiful beaches of San Diego, where he accepted a job at the Safari Park working with elephants. Eventually, with the construction of Elephant Odyssey at the San Diego Zoo in 2009, he moved with the elephants into their new home at the Elephant Care Center, where he has been ever since.
Over the years, Mr. Herbert has developed unique companionships with almost every elephant at Elephant Odyssey due to the amount of time he's spent with each of them. A few years ago at the Safari Park, when free contact with elephants was allowed, Mr. Herbert would enjoy moments where he'd lay in the lush grasses with an elephant and look up at the clouds as they drifted by and feel the light breeze. He relishes the memories of thumb wrestling with the trunks of the elephants while he worked. On one rare instance, an elephant came over and wrapped its trunk over Mr. Herbert's shoulders and down to his calf, practically hugging him as they both stared deep into each other's eyes. Although free contact is no longer allowed, the years of interaction between each elephant have continued to remain strong and unbroken. Through his over-22 years of elephant interaction, Mr. Herbert has developed a permanent relationship with every elephant he's worked with, as well as an everlasting memory to go along with it.
Unlike caring for animals such as carnivores or reptiles, where danger is always lurking, Mr. Herbert and the other keepers found elephants gentle and intelligent creatures that were more of a friend than just an animal. To provide these animals with the necessary physical and mental enrichment, elephant enclosures contain over 34 different feeding stations, which challenges the elephants to find their food. Mimicking the wild by allowing the herd to search, elephant keepers hide the elephants' food in toys, boxes, and barrels high up in the tree to impose physical and mental stimulus. This also gives the elephants an opportunity to use social communication in order to help each other find the food. This is a healthy interaction, as elephants are a very social species.
Aside from providing enrichment, Mr. Herbert also has the job of cleaning elephant poop on a daily basis. Elephant keepers shovel over 300 pounds of poop per elephant per day! At the Zoo, that adds up to about a ton of poop every day! It's a smelly job, but somebody's gotta do it, and Mr. Herbert does it happily. It's part of the job, but it's well worth the rewards.
Mr. Herbert works to create a working relationship with each elephant that is based on the use of about 40 to 45 different vocal gestures. Mr. Herbert's companionship with some elephants has allowed him to simply "call" out the name of an elephant. By doing so, the elephant would be willing to perform a task such as retrieving an item that may have fallen into the enclosure by a Zoo guest. Some of his relationships have become so close that he is able to stick his hand into an elephant's open mouth to pull out a loose tooth.
Taking care of and monitoring these enormous mammals isn't a job for everyone. One of the drawbacks of becoming an animal keeper is that there are no regular holidays or weekends, and the Zoo operates 365 days a year. Keepers, especially lead and senior keepers, are often on-call, and an emergency or sudden threat to an animal's life may require them to report to work on a day off. Daily hours for keepers usually means seven or eight hours per day and, during the summer, elephant keepers could stay at the Zoo for the night shift, from 1 to about 9 p.m. Because of his extensive experience, Mr. Herbert is usually one of the last keepers to leave the Zoo on summer nights.
Unlike other careers, like being a lawyer or doctor, there is no such thing as "elephant school," since being an elephant keeper has a lot to do with experience and having the confidence and authority to work with these larger animals. If taking care of large zoo animals is still an interest for you, Mr. Herbert says to look into volunteer opportunities and internships, such as working with your local humane society or wildlife rehabilitation programs. This will give you hands-on experience with animals, as those lessons can make an enormous impact on your future jobs. Even volunteering or working at small animal shelters or adoption centers can help to improve all the skills necessary to become a large mammal keeper. Like Mr. Herbert, you don't need to have your whole career planned out but rather go with the flow and be willing to take every opportunity that comes your way.
Eric, Careers Team
Week Five, Winter Session 2014
RELATED POSTS