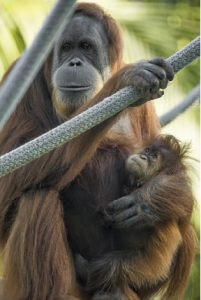 Three-week Event Features Animals Climbing, Prowling and Plunging Skills March 29 – April 20, 2014
Sumatran orangutan Indah and her baby, Aisha, were perched in their climbing structure this morning at the San Diego Zoo. Orangutans are an arboreal ape species and are considered the largest tree-dwelling mammal. In the wild, they make their nightly nests in trees and rarely need to come to the ground. Orangutans are just one of the species featured during this year's Play Days at the Zoo. During the 3-week event, the Zoo will have 10 different keeper talks each day at various locations, including a 9:30 a.m. talk at the orangutan exhibit during "climbing" week, March 29 – April 6, 2014.

During "prowling" week (April 7-13), keeper talks will change and guests can observe animals that prowl, such as the Komodo dragons stalking after prey at the Reptile House. During "plunging" week (April 14 – 20), expect to see the jaguars splash into their pond for fish at Elephant Odyssey.
Zoo guests will also be able to have up-close encounters with the Zoo's animal ambassadors on the Front Street Stage and at Wegeforth Bowl. Dr. Zoolittle, the Zoo's costumed characters and the Sand Band will be performing at the Koalafornia Boardwalk. Guests can even meet the Easter Bunny for commemorative photos inside a larger-than-life basket near the Children's Zoo. All Play Days activities are included with admission. For more information about Play Days
Contact: San Diego Zoo Global Public Relations, 619-685-3291
RELATED POSTS