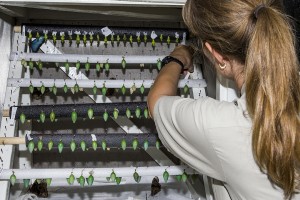 Marci Rimlinger, a lead keeper at the San Diego Zoo Safari Park, checked on some blue morpho butterfly pupae that are getting ready to emerge as butterflies this morning at the Safari Park. Shipments of butterfly pupae (also known as chrysalides) have been arriving at the Safari Park over the past few weeks, each carrying between 500 and 700 pupae of various butterfly species. The delicate pupae will be cared for by animal care staff until ready to emerge as butterflies and be released in the Hidden Jungle aviary for the Butterfly Jungle event.

After the butterfly pupae shipments arrive, animal care staff sorts and counts every pupae before carefully placing each chrysalis into a secure space in the butterfly facility. The chrysalides will stay in that position until the butterflies are ready to emerge, at which point they will be let out from a special release box into an aviary filled with tropical plants and trees.
"Not only do you see these magnificent butterfly species from tropical areas around the world, we also have bird species from Africa such as various finches and turacos that co-exist very well with the butterflies," animal care manager Don Sterner said.
Each year, guests at the Safari Park can see thousands of butterflies as they walk through an aviary filled with the flying creatures during Butterfly Jungle. The 30 butterfly species highlighted this year hail from Africa, Asia and Central and South America and include the zebra longwing, orange-barred tiger and Grecian shoemaker. Old favorites such as the monarch, giant swallowtail and blue morpho will be there as well. There are 15 bird species that co-exist with the butterflies in the Hidden Jungle aviary. Guests can be on the lookout for some new bird species in the aviary this year: red-crested turacos and sunbirds.
CONTACT: SAN DIEGO ZOO GLOBAL PUBLIC RELATIONS, 619-685-3291
RELATED POSTS