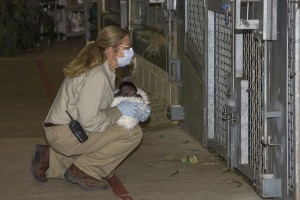 Animal care staff at the San Diego Zoo Safari Park did a visual introduction between the baby gorilla and other members of the gorilla troop, including mother Imani, early this morning, March 21, 2014, at the Safari Park. The visual introduction is the first of many steps that occur before animal care staff can physically re-introduce the baby to the troop of gorillas at the Safari Park. This was the first time that the baby gorilla has left the veterinary hospital and has had visual contact with other gorillas.

Keepers are staying close to the baby gorilla and are still providing constant care in a bedroom area, where members of the gorilla troop can see the baby through a protective barrier and start to become familiar with her. This morning, keepers let the entire troop of gorillas out into their usual gorilla habitat, but the gorillas are able to come and view the baby through the protective barrier if they choose to.
"Veterinary staff felt confident in the baby's health to release her from the hospital. This morning we brought her back to the house where she's started visual introductions to the troop," said senior keeper Matt Gelvin. "Everyone is very excited to see the baby, very curious," Gelvin said of the gorillas seeing the baby for the first time.
CONTACT: SAN DIEGO ZOO GLOBAL PUBLIC RELATIONS, 619-685-3291
RELATED POSTS